Supplies:
Crayola Model Magic - Primary Colours and White
Crayola Construction Paper - 22.9 cm x 30.5 cm (9" x 12")
Crayola Scissors
Crayola Washable No-Run Glue
Tag Manilla Paper - Medium Weight - 22.9 cm x 30.5 cm (9" x 12") - 1 per student
Steps: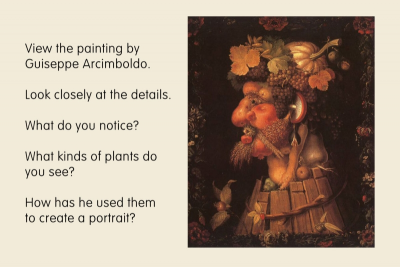 View the painting by Giuseppe Arcimboldo.
Look closely at the details.
What do you notice?
What kinds of plants do you see?
How has he used them to create a portrait?
(Autumn, by Giuseppe Arcimboldo, 1573 - Public Domain, Wikimedia Commons)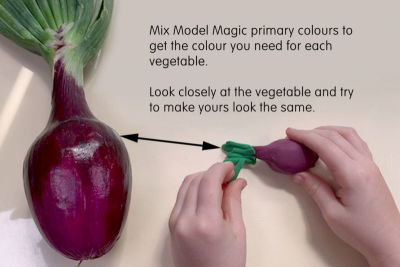 Choose a vegetable and place it in your workspace.
Mix primary colours of Model Magic to make the colour you need for your vegetable.
- red + yellow = orange
- red + blue = violet
- yellow + blue = green
- red + blue + yellow = brown
- white + colour = a lighter colour
- different amounts of a primary colour will change the way the colour looks
Look closely at the real vegetable and try to make yours look the same.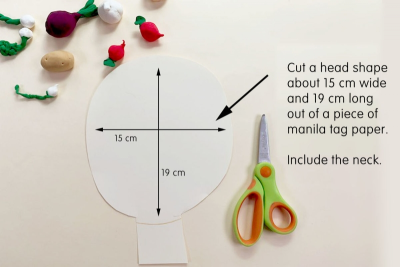 Cut a head shape about 15 cm wide and 19 cm long out of a piece of manila tag paper.
Include a neck.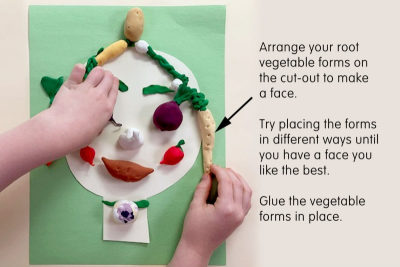 Glue the cut-out head to a piece of construction paper.
Arrange your root vegetable forms on the cut-out to make a face.
Try placing the forms in different ways until you have a face you like best.
Glue the vegetable forms in place.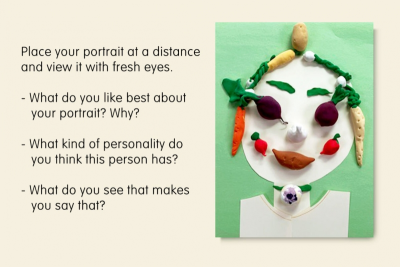 Place your portrait at a distance and view it with fresh eyes.
- What do you like best about your portrait? Why?
- What kind of personality do you think this person has?
- What do you see that makes you say that?
- How is your portrait like Giuseppe Arcimboldo's?
- How is it different?
Subjects:

Grades:

Grade 1,

Grade 2,

Grade 3,

Grade 4,

Grade 5,

Grade 6
---
Related Lesson Plans