Supplies:
Crayola Dry-Erase Washable Crayons, 8 Count
Crayola Sketchbooks - 1 per student
Crayola Paint Brushes
Crayola Marker & Watercolour Paper - 22.9 cm x 30.5 cm (9" x 12")
Plastic Placemats - 1 per student
Water Containers
Pencils
Green Masking Tape
Paper Towels
Steps: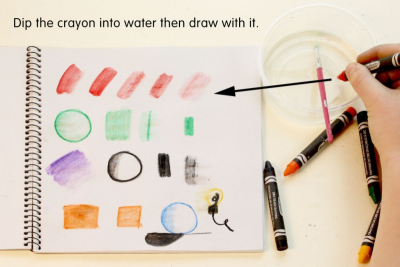 Experiment with ways to use the Crayola Dry-Erase crayons.
- dip the crayon into the water and then draw with it
- paint water onto the tip of a crayon and then paint the colour onto the paper
- paint some water on the paper and draw into it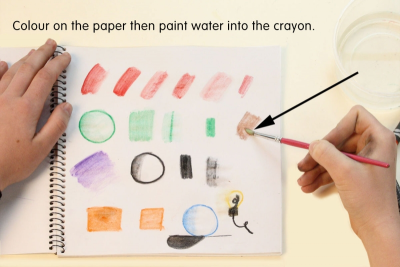 Colour crayon directly on the paper and then brush water into it.
- try using a small amount of water
- use more water and see what happens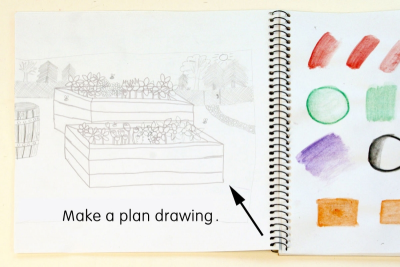 Make a plan drawing.
- include important details
- make sure the composition is balanced
- place shapes and lines so they move your eye through the picture plane
Tape a piece of watercolour paper to a plastic placemat.
Be sure to use one long strip of tape for each side.
Lightly draw your composition on the paper with a pencil.
Begin by colouring directly on the paper with the Dry-Erase crayons.
Paint water into the crayon to create different values.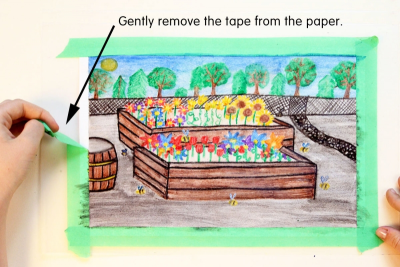 When you are satisfied with your work, gently remove the tape from the paper.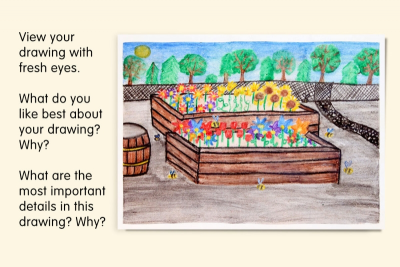 View your picture with fresh eyes.
- What details provide visual information about the project?
- How did you use water to create different values and textures?
- How did you create the illusion of depth?
- How does the picture make you feel? Why?
- What do you like best about your picture? Why?
Subjects:

Grades:

Grade 1,

Grade 2,

Grade 3,

Grade 4,

Grade 5,

Grade 6,

Grade 7,

Grade 8
---
Related Lesson Plans