Supplies:
Crayola Broad Line Markers
Crayola Marker & Watercolour Paper - 22.9 cm x 30.5 cm (9" x 12")
Lined Paper - 21.6 cm x 27.9 cm (8 ½" x 11")
Steps: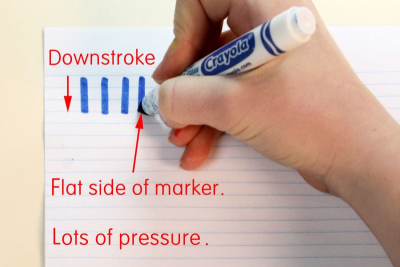 Downstrokes are always thick.
Practice making downstrokes.
- hold the marker at about a 45° angle from the paper
- apply pressure on the downstroke as you pull the marker towards you
- use the flat side of the marker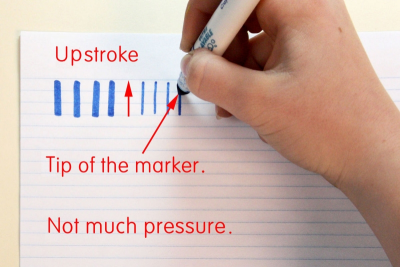 Upstrokes are always thin.
Practice making upstrokes.
- you may want to rotate the marker so you are holding it in a vertical position
- press lightly on the upstroke as you push the marker away from you
- use the tip of the marker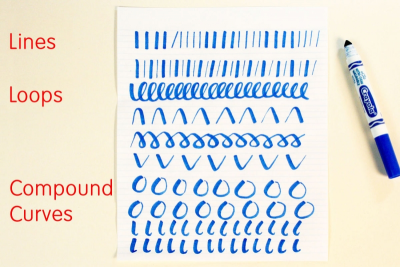 Practice making thick and thin strokes.
Fill a page with:
- thick straight lines
- thin straight lines
- loops
- ovals
- compound curves (combinations of thick and thin lines)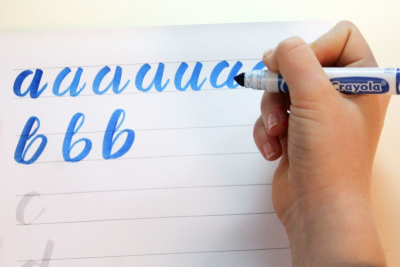 Use the alphabet sheets to practice making letters.
The more you practice, the better your letters will be.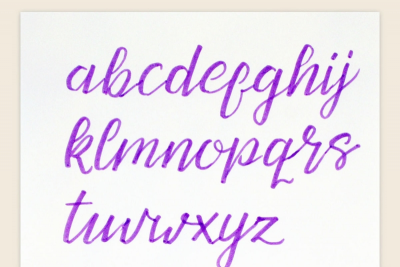 Practice joining the letters together.
Work to keep the letters on the same angle.
Focus on using light pressure to make thin upstrokes, and heavy pressure to make thick downstrokes.
Write your name and other words.
Practice, practice, practice!
Subjects:

Grades:

Grade 4,

Grade 5,

Grade 6,

Grade 7,

Grade 8,

Grade 9
---
Related Lesson Plans