Supplies:
Crayola Fine Line Markers
Crayola Marker & Watercolour Paper - 22.9 cm x 30.5 cm (9" x 12")
Sketchbooks - 1 per student
Pencils
Steps: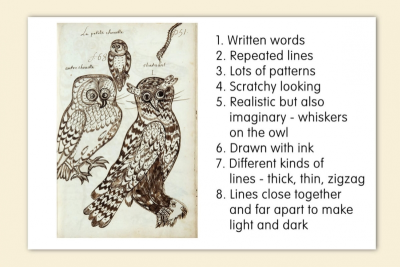 View an image from the Codex Canadensis by Louis Nicolas.
Describe what you see.
- written words
- repeated lines
- lots of patterns
- scratchy looking
- realistic but also imaginary (whiskers on owl)
- drawn with ink
- different kinds of lines - thin, thick, zigzag
- lines close together to show dark spaces and far apart to show light areas
- several animals on one page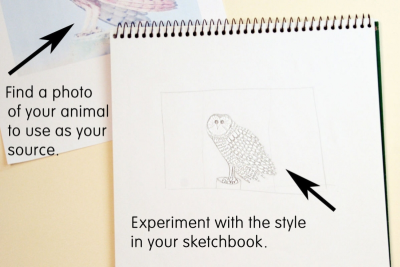 Choose the Canadian animal you want to draw.
Find a photo of the animal to use as your source.
Draw your animal in your sketchbook using a similar style to that in the Codex.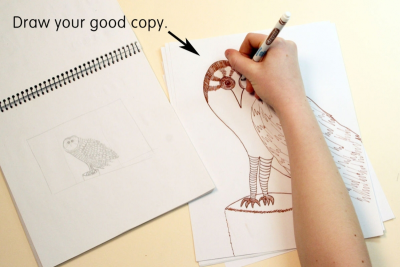 Use your sketchbook drawing and the photo to draw your good copy.
Make sure the image fills the page.
Start with pencil to make a light outline of the main shapes.
Add the lines and patterns with brown fine line marker.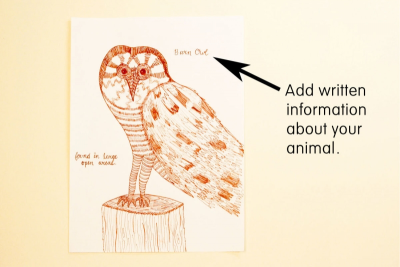 Add written information about your animal the way Louis Nicolas did.
View your work with fresh eyes.
Ask yourself:
- Does it have lots of different kinds of lines?
- Are the lines repeated to make a pattern?
- Does it look realistic and a little imaginary?
- Does it look similar to the style of Louis Nicolas in the Codex Canadensis?
Subjects:

Language Arts,

Social Studies,

Visual Arts

Grades:

Grade 5,

Grade 6,

Grade 7,

Grade 8
---
Related Lesson Plans