Supplies:
Crayola Paint Brushes
Crayola Washable No-Run School Glue
Crayola Scissors
Crayola Tempera Paint
Crayola Marker & Watercolour Paper - 22.9 cm x 30.5 cm (9" x 12")
Water Containers
Paper Towels
Steps: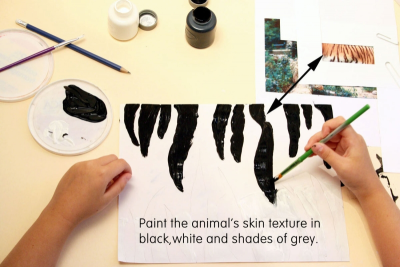 Find a good photograph of your animal.
Make a viewfinder to focus in on the texture of the animal.
- Cut 2 'L' shaped pieces of paper.
- Place them together to frame a section of the picture you want to focus on.
- Paper clip them in place.
Paint the animal's skin texture on your whole paper using only black, white and grey.
- Mix black and white together to get different shades of grey.
This will be the background for your painting.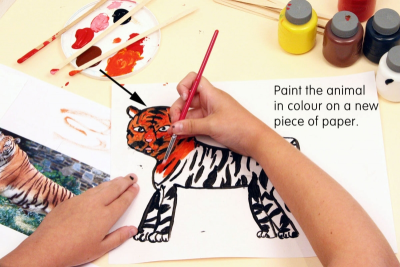 On a separate piece of paper paint just the animal.
Use your photograph as a guide.
Be sure to mix different colours to add details to your painting.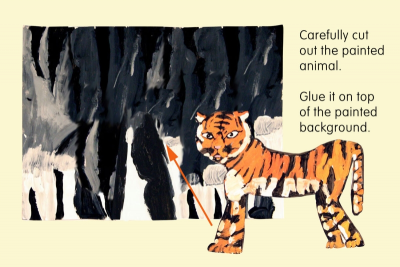 Carefully cut out the painted animal.
Glue it on top of the black and white background.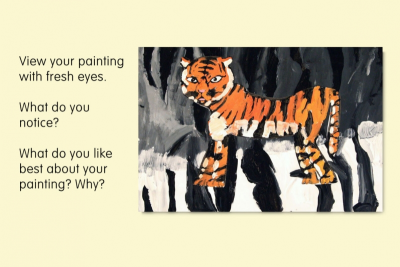 View your painting with fresh eyes.
- What do you notice?
- What do you like best about your painting? Why?
- Who would really like this painting? Why?
- How does the poem you wrote connect with your painting?
Subjects:

Grades:

Grade 2,

Grade 3,

Grade 4,

Grade 5,

Grade 6,

Grade 7
---
Related Lesson Plans