Supplies:
Crayola Construction Paper - Black
Crayola Scissors
Crayola Glue Sticks
Crayola Round Paintbrushes - 4 Count
Crayola Acrylic Paint - 6 Count
Crayola Watercolour Pencils - 12 Count
Crayola Coloured Pencils - 24 Count
Water Containers
Paper Towels
Pencils
Drawing Paper - 30.5 cm x 45.7 cm (12" x 18")
Steps: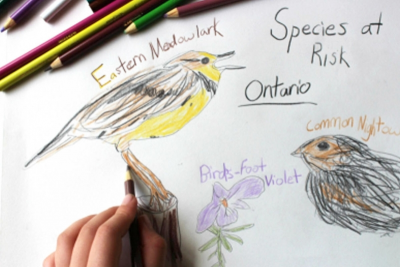 Brainstorm a variety of species at risk.
Use coloured pencil to draw plants and animals that may be of special concern, threatened, or endangered.
Include the names of the different species in your drawing.
Choose one species to focus your artwork on.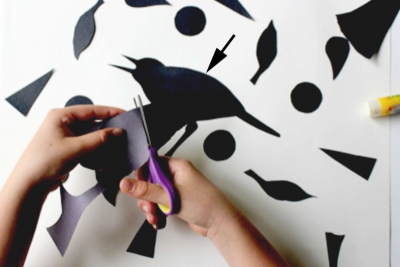 Use black construction paper to cut out the shape of the endangered species or species at-risk that you have chosen for your focal point.
Glue this shape onto the centre of a large piece of white drawing paper.
Cut out a variety of geometric and organic shapes and place the shapes in a circular pattern around the shape in the centre.
When the pattern is complete use a glue stick to secure the shapes.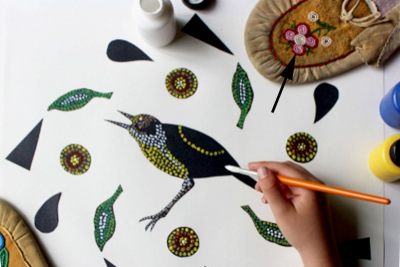 Reflect on the variety of images of Traditional Cree and Ojibwe beadwork.
Examine examples of beadwork, notice the gradation of colours from light to dark, or dark to light.
Imagine you are creating a beaded artwork.
What colours would you choose?
Use acrylic paints and a very fine paint brush to create small beadlike circles on the black shapes.
Create patterns with the colours and beadlike circles.
Fill in all the black shapes with coloured patterns.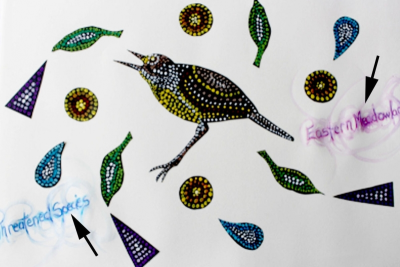 Use watercolour pencils to write the name of the endangered, threatened, extirpated, of special concern, or at risk species on the artwork.
Gently paint into the watercolour pencil with water to soften the lettering.
Subjects:

Language Arts,

Science,

Visual Arts,

First Nations, Metis, Inuit

Grades:

Grade 3,

Grade 4,

Grade 5,

Grade 6,

Grade 7,

Grade 8
---
Related Lesson Plans