Supplies:
Crayola Regular Crayons - NOT Washable
Crayola Paint Brushes
Crayola Watercolour Paints - 8 Count
Painting Paper - 45 cm x 60 cm (18" x 24") - Cut into strips 7.6 cm x 60 cm (3" x 24") - 1 per student
Water Containers
Paper Towels
Pencils
Erasers
Steps: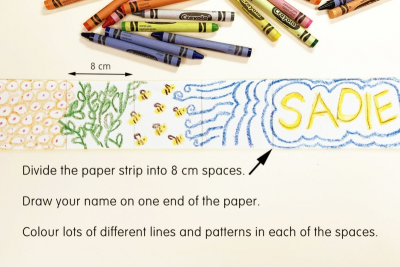 Divide the paper strip into 8 cm spaces.
Draw your name on one end of the paper.
Colour lots of different designs that represent your energy and personality along the strip of paper.
Use your favourite colours.
Press hard with the crayons to get lots of crayon on the paper.
Repeat lines and patterns or use some zentangles to fill the paper.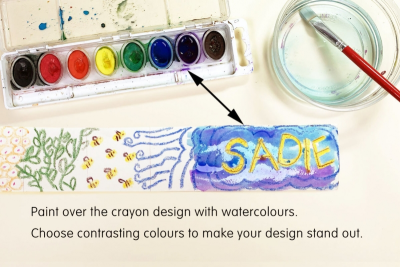 Wet the watercolours with a small amount of water before you begin.
Make sure you get lots of paint on your brush and then paint over the crayon design.
The wax and paint will not mix so your design will show through.
This is called crayon resist technique.
Use different colours of paint.
Choose colours that will contrast with your crayon designs.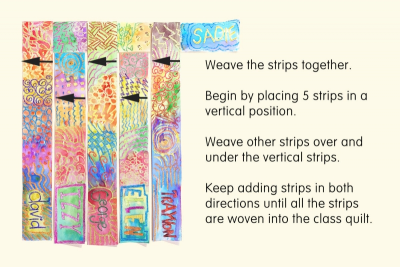 Place 5 strips in a vertical position on a table.
Weave the remaining strips over and under these five strips of paper.
Once that is done, attach 5 more strips to the bottom of the first 5 vertical strips and continue to weave the quilt.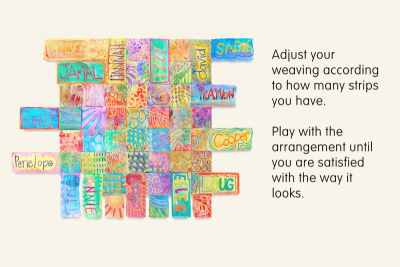 The finished quilt will have 26 strips.
Adjust your weaving depending on how many strips of paper you have.
Play with the arrangement until you are satisfied with how it looks.
Subjects:

Language Arts,

Mathematics,

Visual Arts

Grades:

Grade 1,

Grade 2,

Grade 3,

Grade 7,

Grade 8
---
Related Lesson Plans