Supplies:
Crayola Marker & Watercolour Paper - 22.9 cm x 30.5 cm (9" x 12")
Crayola Acrylic Paint - 6 Count
Crayola Watercolour Paints - 8 Count
Crayola Variety Brush Set - 5 Count
Crayola Scissors
Tag Manilla Paper - 22.9 cm x 30.5 cm (9" x 12")
Crayola Washable Glue Sticks
Pencils
Recycled Magazines
Soft Paint Roller
Plastic Trays
Wooden Spoons
Water Containers
Paper Towels
Recycled Newspapers
Steps: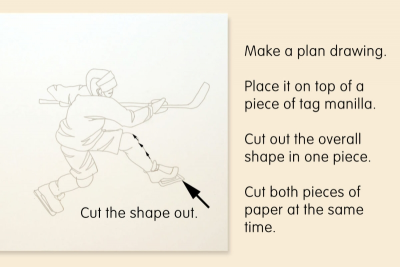 Make 4 thumbnail sketches.
Choose the one you like the best.
Make a plan drawing of your design.
Use the plan drawing as a template.
Place it on top of a piece of tag manilla.
Cut out the overall shape of your drawing in one piece.
Cut both pieces of paper at the same time.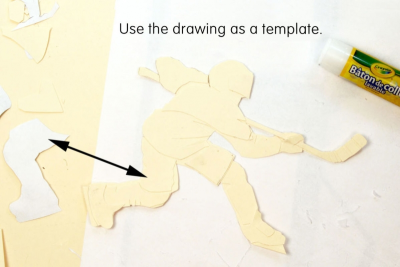 Place the tag manilla cut-out of your main shape on your table.
Use the plan drawing cut-out as a template.
Place a section of it on top of a small piece of tag manilla and cut them both out at the same time.
Glue the small piece to the main shape to create a different level.
Repeat this process until you are satisfied with the details.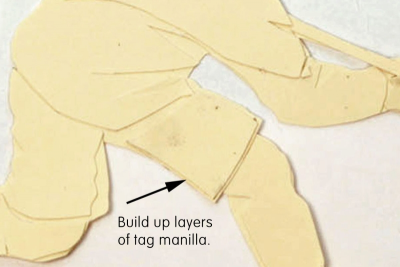 Build up layers of shapes.
Spaces between shapes will create lines in your print.
The finished collagraph is your printing plate.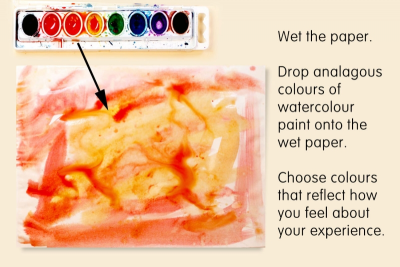 Prepare a piece of watercolour paper.
Wet the paper.
Drop analogous colours of watercolour paint onto the wet paper.
Choose colours that reflect how you feel about your experience.
Set it aside to dry.
Make several sheets of painted paper to use for your prints.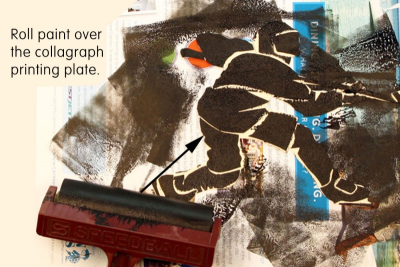 Place the printing plate on an open magazine page.
Pour some acrylic paint onto a plastic surface.
Use a soft paint roller or brayer to roll paint over the collagraph.
This is called inking the plate.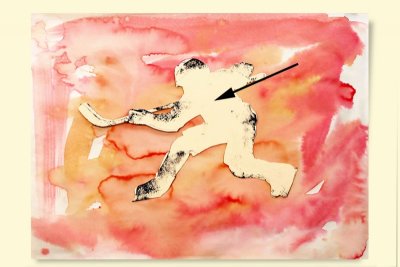 Gently lift the inked printing plate off the magazine page.
Place it on top of the painted paper.
Press it to the paper with the flat of your hand.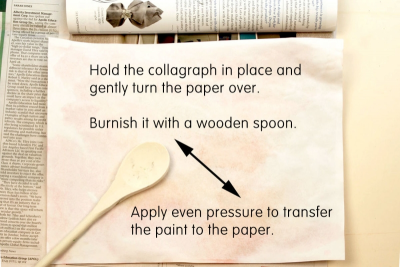 Hold the printing plate in place and gently turn the paper over.
Burnish it with a wooden spoon.
Apply even pressure to transfer the paint to the paper.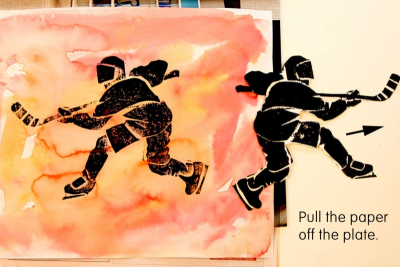 Carefully pull the paper off the inked plate to see your print.
Place it aside it to dry.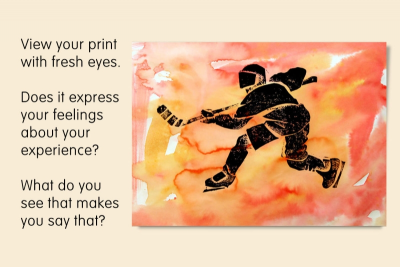 View your print with fresh eyes.
- Does it express your feelings about your experience?
- What do you see that makes you say that?
- What do you like best about your prints? Why?
Subjects:

Grades:

Grade 6,

Grade 7,

Grade 8,

Grade 9
---
Related Lesson Plans