Supplies:
Crayola Watercolour Pencils
Crayola Fine Line Markers
Crayola Marker & Watercolour Paper - 22.9 cm x 30.5 cm (9" x 12")
Crayola Paint Brushes
Rulers
Pencils
Erasers
Water Containers
Paper Towels
Steps: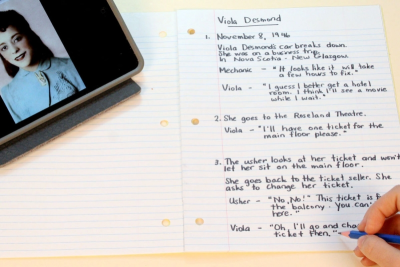 Use resource books, primary source materials, and web sites to research Viola Desmond.
Focus on the events of November 8, 1946.
Identify the main characters in the story.
List the actions and what the characters might have said in the order they occurred.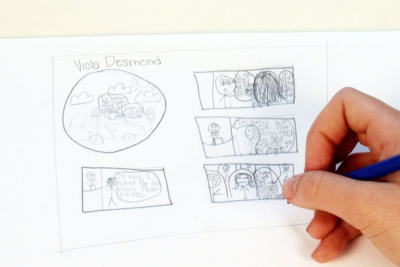 Make thumbnail sketches for each scene.
Stick figures are fine for this step.
Decide how many of your thumbnail sketches you want on one page.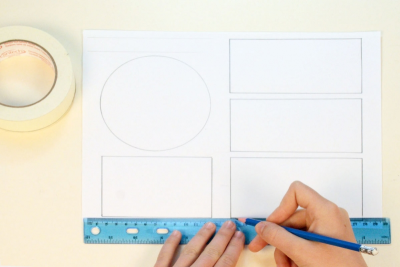 Draw panels on your pages. They can be any shape, for example,
- square
- circle
- rectangle
Leave a space between the panels. This space is called a gutter.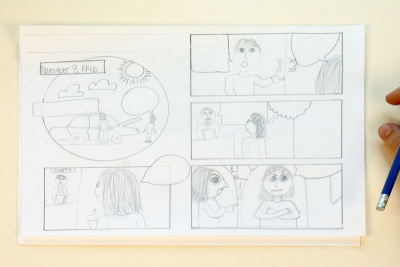 Use pencil to draw in each panel.
Draw important details to help tell the story. Think about:
- facial details and expressions
- specific visual details that are essential to the story
Draw speech bubbles, thought bubbles and narrative boxes. Leave them blank for now.
Share your work with a partner to get feedback.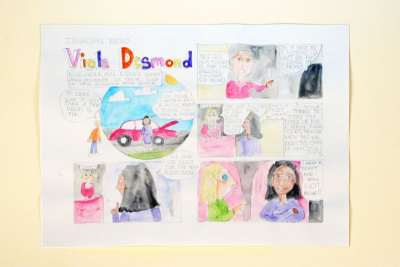 Make any adjustments to your design based on the feedback you received.
Add emanata to show what the character is feeling, for example,
- @$%#$ to indicate anger
- ? to indicate confusion
- sweat beads to indicate anxiety
Add motion lines.
Use watercolour pencil techniques to colour each panel.
Add the words in pencil. Remember to:
- check spelling
- print neatly
- adjust the size of the speech bubble if necessary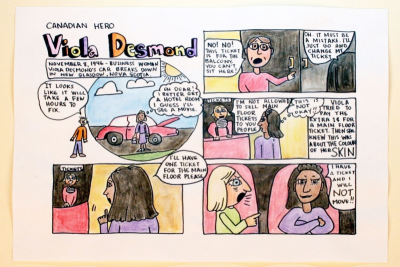 Use a black, fine line marker to outline everything.
Add any other details or more colour to complete the page.
Gently erase the pencil lines.
Subjects:

Grades:

Grade 4,

Grade 5,

Grade 6,

Grade 7,

Grade 8,

Grade 9
---
Related Lesson Plans