Supplies:
Crayola Construction Paper
Crayola Scissors
Crayola Fine Line Markers
Crayola Washable School Glue
Crayola Washable Paint
Crayola Marker & Watercolour Paper - 22.9 cm x 30.5 cm (9" x 12")
Small Twigs and Branches
Small Spray Bottles
Paper Towels
Water
Steps: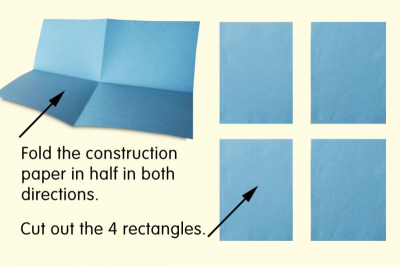 Use a piece of blue 22.9 cm x 30.5 cm construction paper.
Fold the paper in half in both directions - short end to short end, and long end to long end.
You should have 4 boxes.
Cut along the folds to get 4 separate rectangles.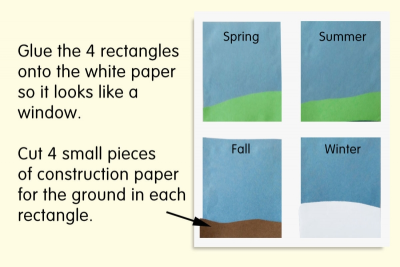 Glue the four blue paper rectangles onto the white paper.
Leave a small space between each rectangle so your paper looks like a window.
Cut 4 small pieces of construction paper to place along the bottom of each rectangle for the ground.
Use green for spring and summer, brown for fall and white for winter.
Label each rectangle as one of the seasons – Spring, Summer, Fall, Winter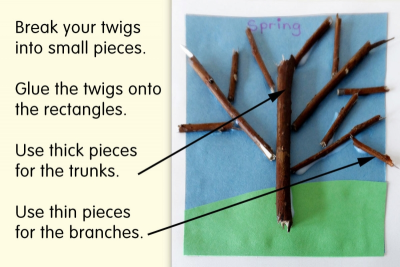 Break your twigs into small pieces.
Use the thick pieces for the trunks of each tree.
Use thin twigs for the branches of each tree.
Place all the twigs for a tree on a blue rectangle before starting to glue.
Glue the twigs in place.
Repeat for each blue rectangle.
Make 4 trees so that you have one to represent each season.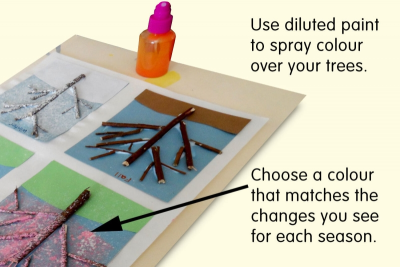 Think of the colours of each season.
- How do they change?
Choose the season you would like to begin with.
Use diluted paint in a small spray bottle to paint each season a different colour.
- You may want to practice on a sheet of scrap paper first in order to get a feel for the way the paint will spray.
When you are ready, place scrap paper over the other three seasons to mask them from the paint when you start spraying.
Lightly spray the paint onto the first tree.
Continue with the other 3 trees using appropriate colours for each season.
Remember to place scrap paper over the other three seasons before you start spraying.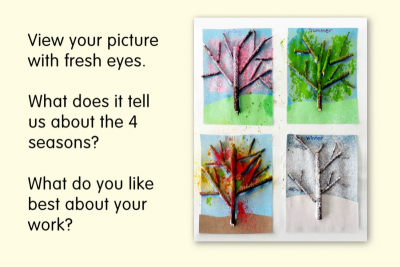 Place your picture at a distance.
View it with fresh eyes.
- What does it tell us about the 4 seasons?
- What do you like best about your work? Why?
Subjects:

Grades:

Kindergarten,

Grade 1,

Grade 2,

Grade 3
---
Related Lesson Plans