Supplies:
Crayola Coloured Pencils - 24 Count
Crayola Watercolour Paints - 8 Count
Crayola Paintbrushes - 4 Count
Crayola Marker & Watercolour Paper - 22.9 cm x 30.5 cm (9" x 12")
Pencils
Still Life Objects
Water Containers
Paper Towels
Steps: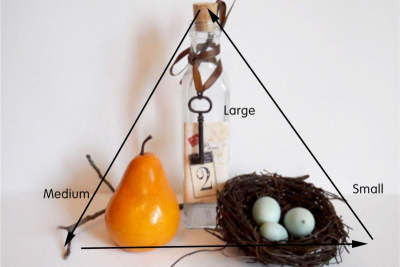 Choose 3 objects, small, medium and large.
Each object should be different in height, shape, texture and colour.
At least two objects should overlap and sit on different planes.
Arrange them in a composition that would fit into a triangular shape.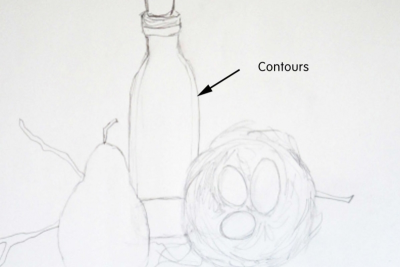 Create a contour drawing of the objects.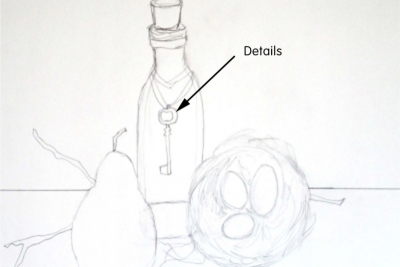 Add details to the contour drawing.
Draw in the horizon line, also known as the eye level line.
- The placement of this line tells the viewer that the objects are either slightly above the viewer's eye level, right at the viewer's eye level or slightly below the viewer's eye level.
The composition will be most effective if you place the horizon line either one-third or two-thirds of the way up from the bottom of the page.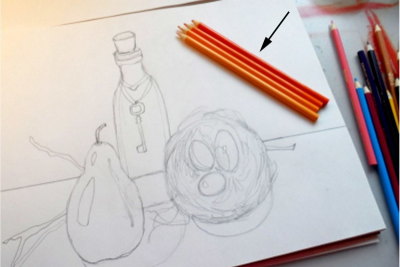 Look for areas where the light hits the objects and draw them in lightly with a pencil.
Choose coloured pencils to work with.
Blend colours light to dark, following the light source.
Use analogous colours in the objects to create an sense of depth, for example, yellow-orange, orange, and red-orange.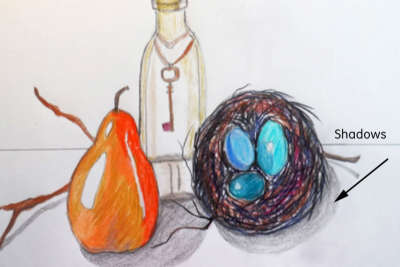 Colour the shadows with a grey coloured pencil.
Use dark grey closest to the objects.
As you get further away from the objects the grey gets lighter.
Always follow the light source.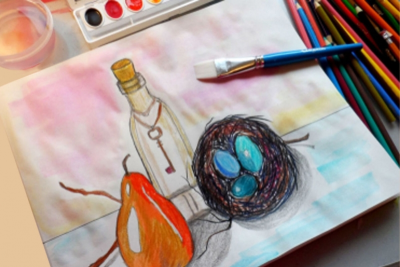 The last step is to paint a very light wash with a large flat brush.
Colours should not be too bright or compete with the colours in the objects.
Subjects:

Language Arts,

Visual Arts

Grades:

Grade 7,

Grade 8,

Grade 9,

Grade 10
---
Related Lesson Plans