Supplies:
Crayola Broad Line Markers
Crayola Marker & Watercolour Paper - 22.9 cm x 30.5 cm (9" x 12")
Crayola Crayons
Crayola Scissors
Write-On Transparency Film or Plastic File Folders cut into rectangles - 14 cm x 21.5 cm (5 ½" x 8 ½") - 1 per student
Masking Tape
Small Pieces of Sponge - about 3 cm x 3 cm (1 ¼"x 1 ¼") - 1 per student
Paper Towels
Water Containers
Steps: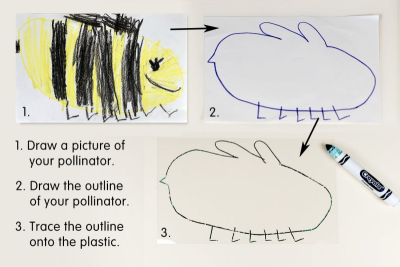 Draw a picture of your pollinator on a 14 cm x 21.5 cm (5 ½" x 8 ½") piece of paper.
Make it fill the whole paper.
Draw just the outline of your pollinator on a new paper.
Use a marker to trace the outline of your pollinator on the plastic rectangle.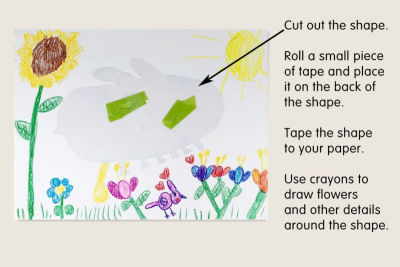 Cut out the shape.
Clean the marker off the plastic shape with a tissue.
Roll a piece of masking tape with the sticky side facing out to make a cylinder.
Place it on the back of the plastic shape.
Fasten the shape to your paper.
Use crayons to colour things your pollinator likes around the plastic shape.
Press hard with the crayon.
Leave some paper white.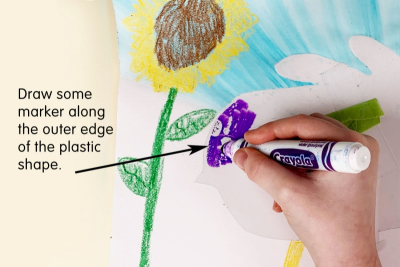 Draw some marker along the outer edge of the plastic shape.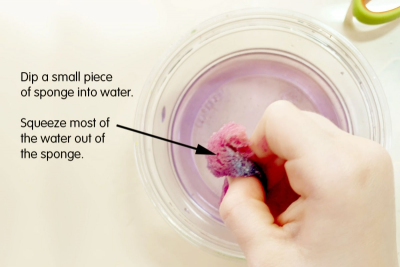 Dip a small piece of sponge into water.
Squeeze most of the water out of the sponge.
The sponge should be damp not wet or the colours will be very pale.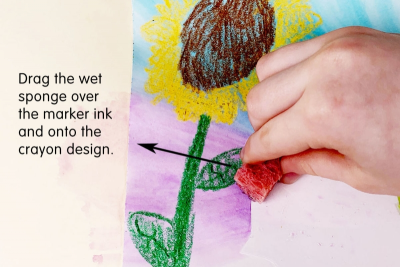 Drag the wet sponge over the marker ink and onto the crayon design.
Continue in this way until the outer frame is complete.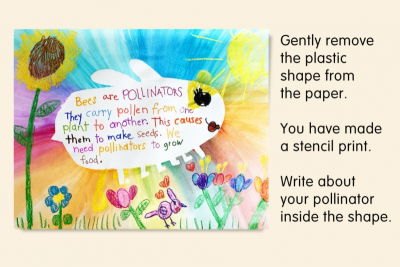 Gently remove the plastic shape from the paper.
You have made a stencil print.
Write about your pollinator inside the shape.
View your work with fresh eyes.
- The words tell us things about pollinators.
- What more can we learn from the colours and details you drew?
- What do you like best about your work? Why?