SNOWFLAKE MELODY – Painting To Music, Geometric Design

Students listen to instrumental music and use washable paint and oil pastels to show how the music makes them feel. Then they cut out 3 small, 6-pointed snowflakes and glue them to the painting.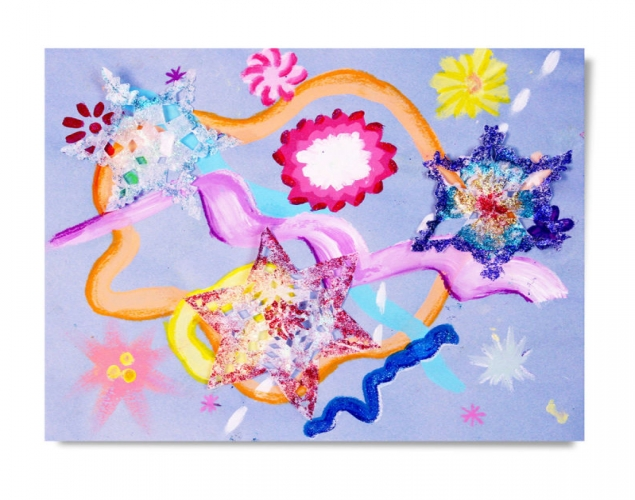 Supplies:
Crayola Paint Brushes
Crayola Tempera Paint
Crayola Construction Paper - 22.9 cm x 30.5 cm (9" x 12")
Crayola Glue Sticks
Crayola Scissors
Crayola Glitter Glue
Water Containers
Plastic Container Lids for Palettes
Paper Towels
Tracing Paper - 22.9 cm x 30.5 cm (9" x 12")
Steps: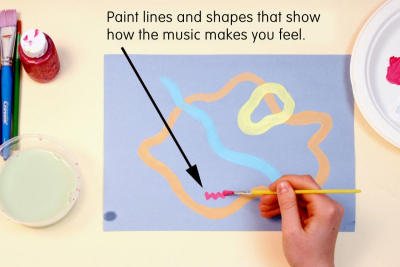 Feel the music as you listen to it.
When you are ready choose a colour and brush and start to paint.
Make lines and shapes that show how the music makes you feel.
Take your time.
Let the music speak to you.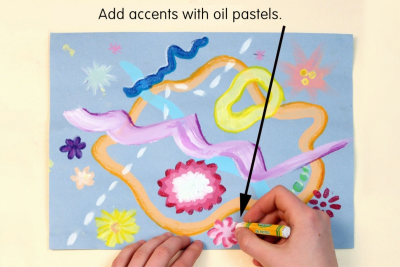 View your painting as you listen to the music again.
Add some accent marks with oil pastels.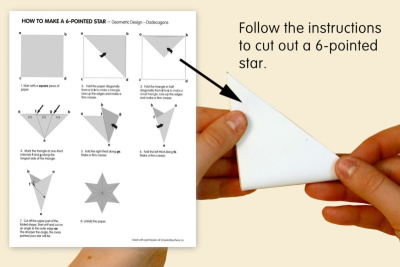 Follow the instructions to cut out a 6-pointed star. (Downloads - SixPointedStar.pdf).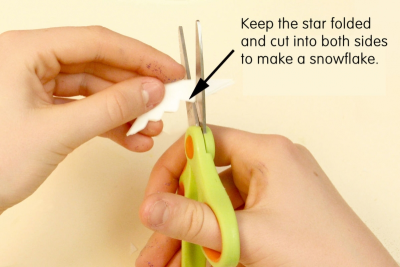 Keep the star folded and cut into the sides to make a snowflake.
Make 3 snowflakes with different patterns.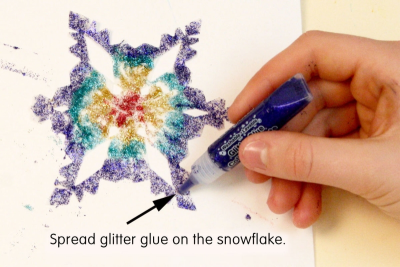 Spread glitter glue on the snowflakes.
Allow them to dry.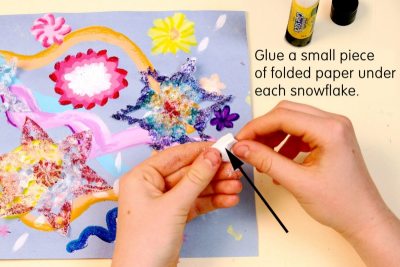 Fold small pieces of paper (2.5 cm x 2.5 cm) into quarters.
Place the snowflakes on the painting.
Glue the folded paper to the painting under the centre of each snowflake so the snowflakes will be slightly raised from the paper.
Apply a small amount of glue to the back of the centre the snowflakes and press them into place.
Glue parts of the edges of the snowflakes to the painting and let the unglued parts sit out from the paper so they cast a shadow.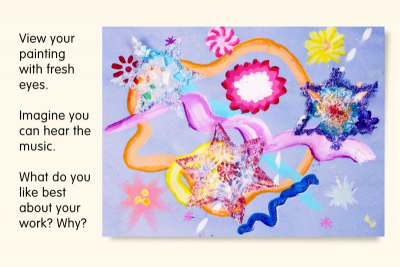 Place the finished painting on a clean surface.
View your painting with fresh eyes.
Imagine you can hear the music.
- What do you like best about your work? Why?
Subjects:

Grades:

Grade 2,

Grade 3,

Grade 4,

Grade 5,

Grade 6,

Grade 7,

Grade 8
---
Related Lesson Plans