COLLAGE SELF-PORTRAIT – Shape, Texture, Contrast

Students use photo editing software to posterize a photo of themselves and use it to create a self-portrait collage using papers they have painted. Once they are satisfied with their self-portrait they write an artist statement about it.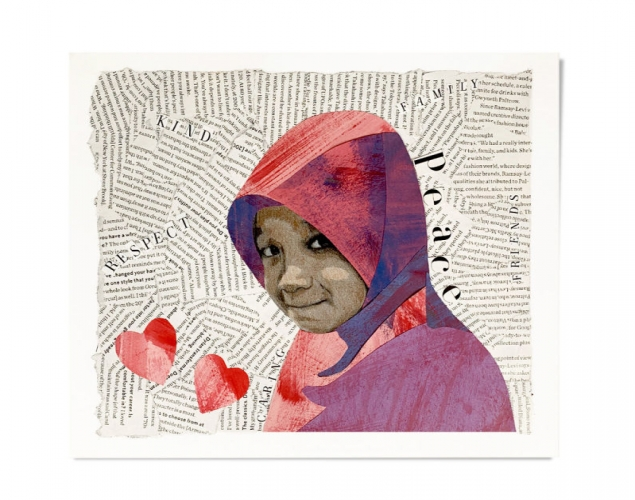 Supplies:
Crayola Washable Glue Sticks
Crayola Scissors
Crayola Construction Paper - 22.9 cm x 30.5 cm (9" x 12") - variety of colours
Crayola Paint Brushes
Crayola Washable Paint
Crayola Marker & Watercolour Paper - 22.9 cm x 30.5 cm (9" x 12")
Crayola Colours of the World Crayons or Coloured Pencils
Water Containers
Paper Towels
Recycled Magazines and Newspapers
Steps: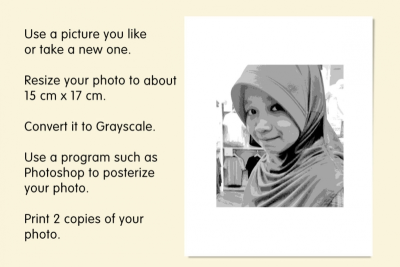 Use a picture of yourself you like or take a new one.
Resize the photo so your head and shoulders fit in a box about 15 cm x 17 cm.
Convert the photo to Grayscale.
Use a photo editing program such as Photoshop to posterize your photo.
Print 2 copies - 1 for the portrait and 1 for cutting out shapes.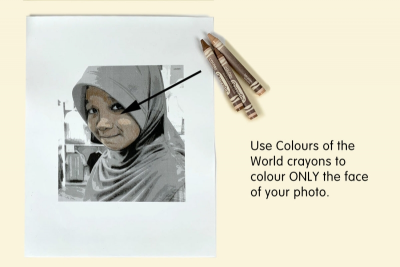 Use Crayola Colours of the World crayons or coloured pencils to colour ONLY the face of your photo.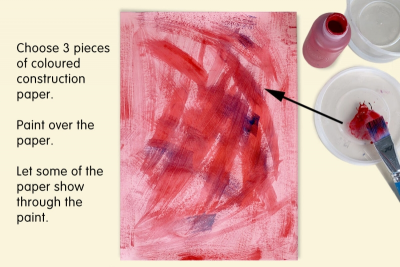 Choose 3 pieces of coloured construction paper.
Paint over the paper with loose free strokes.
Let some of the paper show through.
Make some areas darker than others.
Set the papers aside to dry.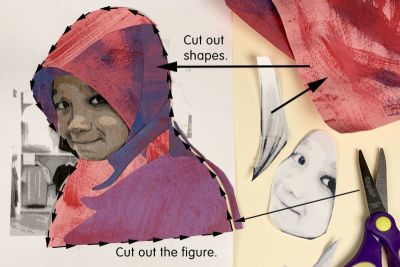 Cut a shape out of the 2nd photo to use as a pattern.
Place the pattern shape on top of the construction paper and cut it out.
Glue the shape to the photo you coloured.
Continue in this way until the figure is completed.
Cut out the figure.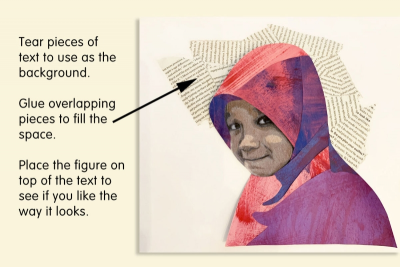 Tear pieces of text to use as the background.
Glue overlapping pieces of the text to a piece of drawing paper.
Place the figure on top of the text background to see if you like the way it looks.
Fill the whole space.
Glue the figure to the background.
Add a symbol and words to communicate things that are important to you.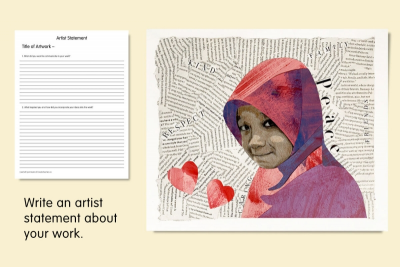 View your self-portrait with fresh eyes.
- What do you like best about it? Why?
- What message does it communicate about you?
- What do you see that makes you say that?
Use the worksheet to write an artist statement about your work. (Downloads - WriteArtistStatement.pdf)