Supplies:
Crayola Air Dry Clay
Crayola Paint Brushes
Slip
Water Containers
Rolling Pins or Piece of Dowel
Plastic Placemats - 1 per student
Pencils
Garlic Press
Paper Clips
Masking Tape
Wooden Candy Apple Sticks
Steps: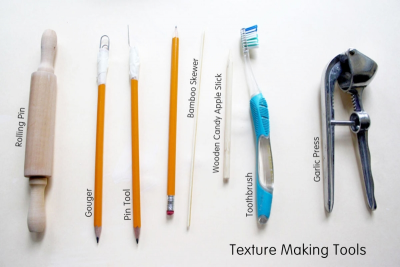 TOOLS
Make a gouging tool by taping a large paperclip to the end of a pencil.
Make a pin tool by taping an open paperclip to the end of a pencil.
Gather other tools such as a:
- rolling pin;
- dowel;
- garlic press;
- toothbrush;
- bamboo skewer;
- wooden candy apple stick.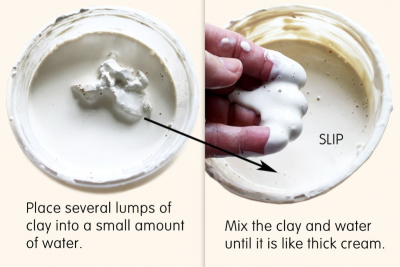 SLIP
You use slip to help hold the clay together.
To make slip begin by placing several lumps of clay into a container and adding a small amount of water.
Mix the clay and water together.
If it is too watery add more clay and continue to squeeze the clay through your fingers until it disolves.
Mix the clay and water together until it is like thick cream.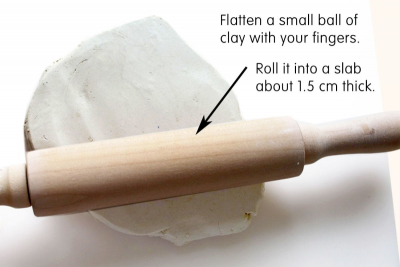 SLAB
Make a small ball of clay and flatten it with your fingers and the palm of your hand.
Use a rolling pin or piece of dowel to roll it into a flat shape about 1.5 cm thick - this is called a slab.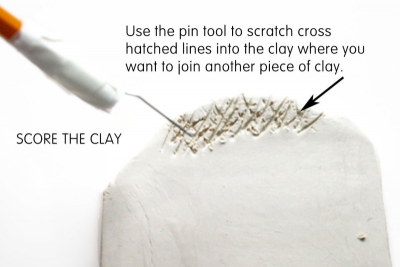 SCORE
Use the pin tool to scratch cross hatched lines into the clay where you want to join another piece of clay.
This is called scoring the clay.
SCORE AND SLIP
Paint slip on top of the score lines.
This is called score and slip technique.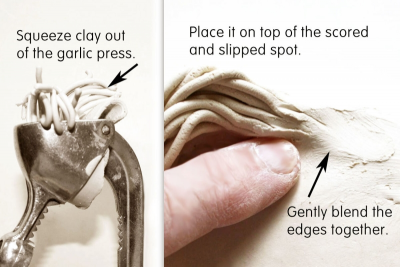 Place a small ball of clay into the garlic press and squeeze it out.
Place it on top of the scored and slipped spot.
Gently blend the edges into the slab to make a smooth join.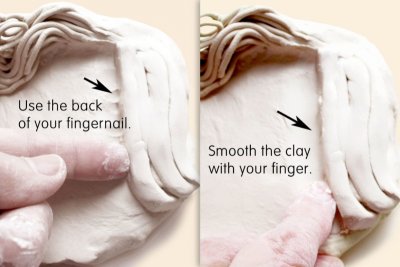 COILS
Roll a long thin coil of clay.
As you roll the clay spread your fingers and apply gentle, even pressure to slowly stretch the clay.
Score and slip the spot where you will join the coil to the slab.
Place the coil on the prepared spot.
Use the back of your fingernail to join the edges to the slab.
Smooth the clay with your finger.
Add a small amount of slip if needed.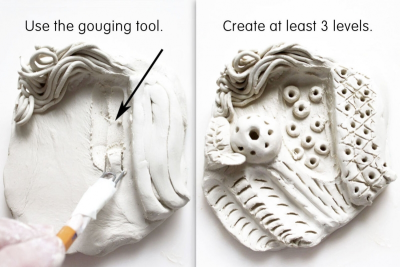 LEVELS
Use the gouging tool to scrape away some of the clay from the slab.
Continue adding and removing clay to create at least 3 levels.
Experiment with ways to make different textures.
Always remember to score and slip before adding any pieces of clay.
Subjects:

Grades:

Grade 1,

Grade 2,

Grade 3,

Grade 4,

Grade 5,

Grade 6,

Grade 7,

Grade 8,

Grade 9,

Grade 10
---
Related Lesson Plans