Supplies:
Crayola Broad Tip Markers
Crayola Marker & Watercolour Paper - 22.9 cm x 30.5 cm (9" x 12") - 4 pieces per student
Crayola Scissors
Crayola Washable No-Run School Glue
Craft Foam - 15.2 cm x 22.9 cm (6" x 9") - 1 per student
Foam Core Board - 15.2 cm x 22.9 cm (6" x 9") - 1 per student
Ball Point Pens
Small Pieces of Sponge
Water Containers
Paper Towels
Steps: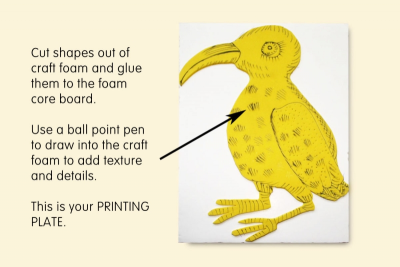 Printing Plate
Cut shapes out of the craft foam and glue them to the foam core board.
Use a ball point pen to draw into the craft foam to add texture and details.
This is your printing plate.
Allow the craft foam to dry before beginning to print.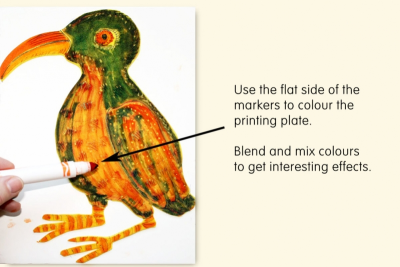 Use the flat side of the markers to colour the printing plate.
Blend and mix colours to get interesting effects.
Apply lots of ink.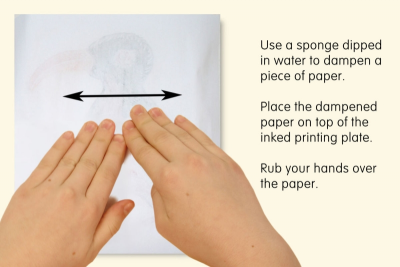 Use a sponge dipped in water to dampen a piece of printing paper.
Place the dampened paper on top of the inked printing plate.
Rub your hands back and forth over the paper.
Apply a firm, even pressure to transfer the ink to the paper.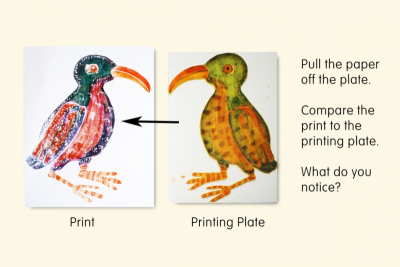 Pull the paper off the plate.
Compare the print with the printing plate.
What do you notice?
- Is there still ink on the plate and not enough ink on the print?
- Do the lines and details show up?
- Are the colours bright and interesting?
- Are there any changes you want to make before you make another print?
Clean the printing plate with water and some paper towel.
Now you're ready to start again.
Make 4 prints.
Place your damp prints under some heavy books until they are dry to keep the paper nice and flat.
Subjects:

Grades:

Grade 1,

Grade 2,

Grade 3,

Grade 4,

Grade 5,

Grade 6,

Grade 7,

Grade 8,

Grade 9
---
Related Lesson Plans