Supplies:
Crayola Acrylic Paint - 6 Count
Crayola Paint Brush Set - 5 Count
Crayola Glitter Glue
Crayola Fine Line Markers - 12 Count
Water Containers
Paper Towels
Bristol Board - 6.4 cm x 8.9 cm (2 ½" x 3 ½") - 4 per student
Steps: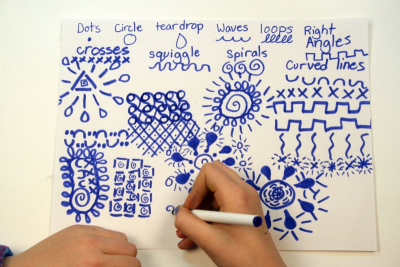 Write the design vocabulary across the top of your paper.
These are the elements you can combine to make lots of different patterns.
Get creative and see what patterns you can make using different combinations of:
- dots
- circles
- teardrops
- waves
- loops
- right angles
- crosses
- squiggles
- spirals
- curves
Fill the page with your designs.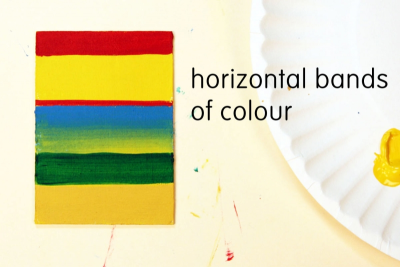 You will be creating 4 different cards using a different way to organize the space in each one.
Begin by organizing the space on one card by repeating horizontal bands of colour.
Vary the thickness and colours of each band.
Set this card aside to dry.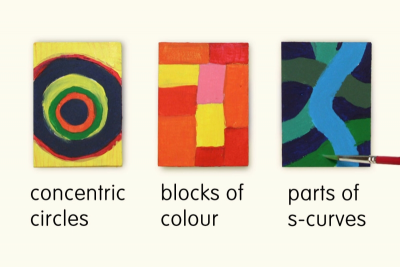 Continue preparing each of the other cards. Organize the space on these cards in the following way:
- repeat concentric circles
- repeat blocks of colour
- repeat parts of s-curves
Remember to vary the colours and sizes of these shapes.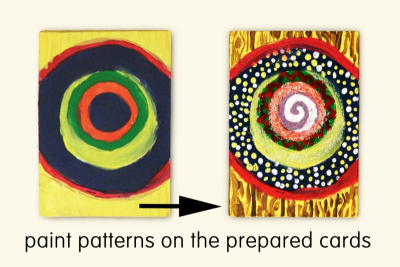 Paint patterns on top of the prepared compositions.
Vary the elements as you fill the space.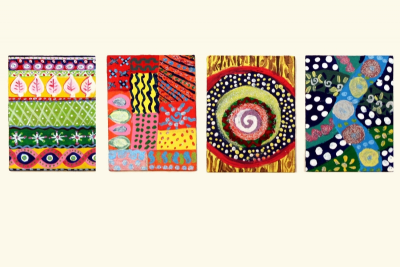 When you have completed all four cards, place them beside each other and compare them.
- How does the organization of space affect the work?
- How are the designs the same?
- How are the designs different?
- Which card do you prefer? Why?
Subjects:

Grades:

Grade 5,

Grade 6,

Grade 7,

Grade 8,

Grade 9
---
Related Lesson Plans