MEDICINE WHEEL – Emotions, Emphasis, Mixed Media

Students create a mixed media artwork using acrylic paints, oil pastels, fabric scraps, fine line black markers, and found objects. They reflect on the emotional aspect of the Medicine Wheel, and how they express their feelings in positive ways.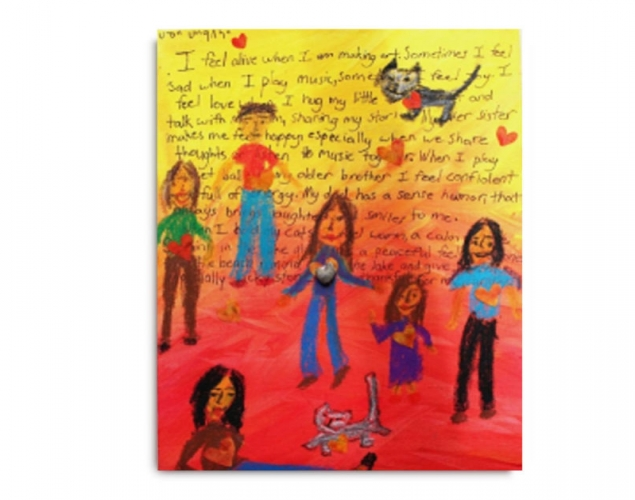 Supplies:
Crayola Acrylic Paint
Crayola Permanent Markers - black
Crayola Oil Pastels
Crayola Paint Brushes
Crayola School Glue
Water Containers
Scrap Fabric Pieces
Foam Board or Canvases - 30.5 cm x 40.6 cm (12" x 16") - 1 per student
Found Objects - a natural object connected to the student
Paper Towels
Steps: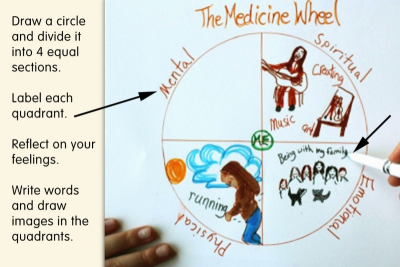 Begin with a circle and divide it into 4 equal sections.
Label each of the quadrants.
- in the east is spiritual energy (our spirit)
- in the south is emotional energy (our hearts, our feelings)
- in the west is physical energy (our bodies, our actions)
- in the north is mental energy (our thoughts, our thinking).
Focus on the emotional aspect of human beings.
Reflect on your feelings.
Close your eyes and focus on the activities you do to express how you feel.
- What images come to your mind?
- What life relationships and experiences give you happiness?
Write words and draw images about your feelings in the southern quandrant of the medicine wheel.
Include life experiences that allow you to express your feelings in a positive way.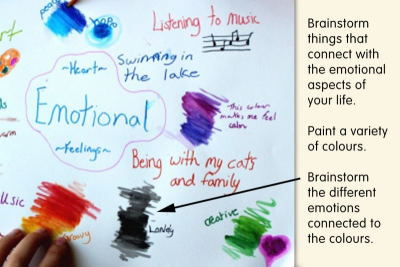 Brainstorm words and images connected to the emotional aspect of your life.
Use a variety of shapes to express the emotional area of your life.
Reflect on how you express your feelings in a positive way.
- What life experiences and relationships give you happiness?
Use watercolour pencils to draw/paint a variety of colours.
Brainstorm the different emotions connected to each colour.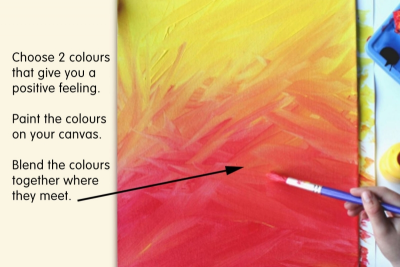 Use a canvas board, or a piece of foam core board to make your artwork on.
Choose two acrylic paint colours that give you positive feelings.
- colours that can be blended together to create another colour work well
Paint your background with the two colours.
Blend the colours together where they meet.
Allow time for your background to dry before moving on to step four.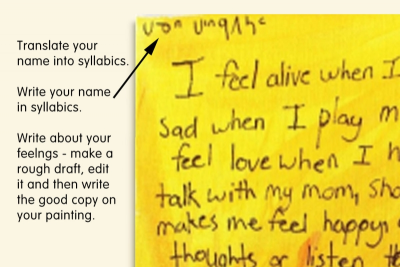 Use the Syllabics Chart (western Swampy Cree or from the First Nation community in your area) to translate your name into syllabics.
- There are many different versions of syllabic charts each connected to a different First Nation community.
Write your name in syllabics using black permanent marker.
Write about your feelings.
- What life experiences give you positive feelings?
- How do you express your feelings when you are sad, content, joyful, or confused?
- What life relationships support who you are and how you feel about yourself?
Create a rough draft.
Edit the rough draft.
Use a black permanent marker to write the good copy of your story on your painting.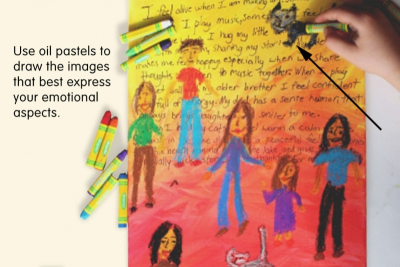 Choose an image from your earlier brainstorming activity, or the image you included in the southern quadrant of the medicine wheel.
Use oil pastels to draw the image that best expresses your emotional aspects.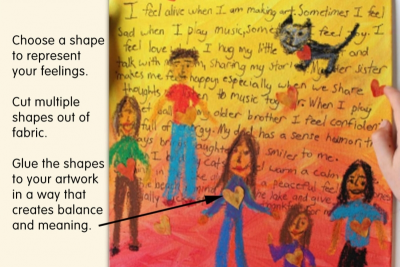 Choose a shape to represent your feelings.
Use fabric scraps to cut out multiple copies of the shape,.
Collage the shapes to your artwork.
Place the shapes you have chosen in a way that creates balance and meaning.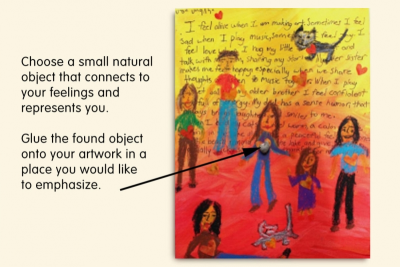 Choose a small, natural object that connects to your feelings and represents you.
Glue the found object onto your artwork in a place you would like to emphasize, your self-portrait, for example.
Subjects:

Language Arts,

Visual Arts,

First Nations, Metis, Inuit

Grades:

Grade 4,

Grade 5,

Grade 6,

Grade 7,

Grade 8
---
Related Lesson Plans