Supplies:
Crayola Construction Paper - 22.9 cm x 30.5 cm (9" x 12")
Crayola Marker & Watercolour Paper - 22.9 cm x 30.5 cm (9" x 12") - 10 pieces per student
Crayola Markers
Crayola Coloured Pencils
Crayola Crayons
Corrugated Cardboard - 22.9 cm x 30.5 cm (9" x 12") - 2 pieces per student
Hole Punch
Prong Paper Fasteners - 7 cm (2.75") Base - 1 per student
Steps: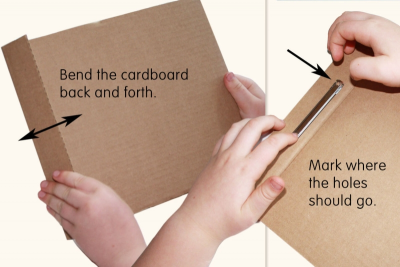 Find the piece of cardboard with the scored edge.
Gently fold it back and forth along the scored mark to loosen it up.
Place the paper fastener in the middle of the thin edge to measure where the holes will go.
Mark the spots.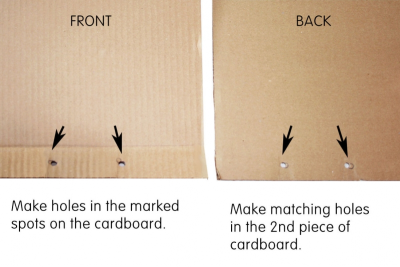 Use the tip of your scissors or the hole-punch to make the holes in the cardboard.
Place the cardboard with the holes in it on top of the other piece of cardboard.
Mark where the matching holes should be.
Poke or punch holes in the cardboard.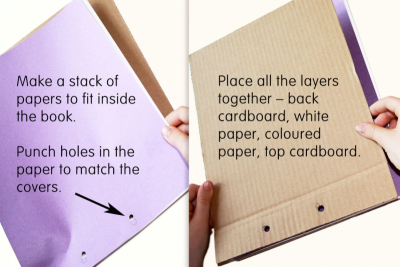 Make a stack of papers to fit inside the book.
Punch holes in the paper to match the covers.
Place all the layers together
- back cardboard
- 10 pieces of white paper
- 1 piece of coloured construction paper
- front cardboard
Make sure everything is lined up evenly.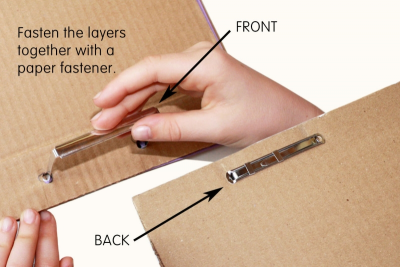 Fasten the layers together with the prong paper fastener, or use string, ribbon or some other material.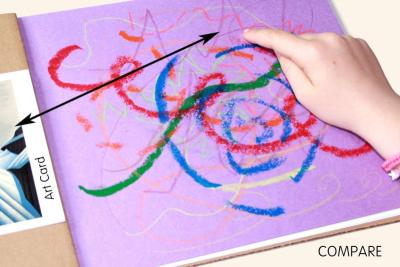 As soon as you are finished putting the book together begin to make a design.
Use as many different kinds of lines as you can think of.
Compare your design with the art card you chose.
Find 3 ways that your drawing and the art card are the same.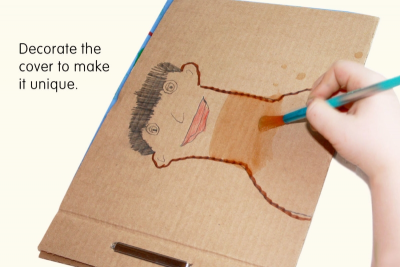 Use a variety of materials to decorate your cover to make it uniquely yours.
Use your sketchbook to practise drawing and record your ideas.
Subjects:

Language Arts,

Mathematics,

Visual Arts

Grades:

Grade 1,

Grade 2,

Grade 3,

Grade 7,

Grade 8
---
Related Lesson Plans