Supplies:
Crayola Model Magic - Primary Colours and White
Crayola Washable No-Run School Glue
Crayola Scissors
Crayola Construction Paper
Crayola Crayons
Clothes Pegs
Cotton Balls
Pipe Cleaners
Dried Leaves
Twigs and Small Branches
Dried Flowers and Grasses
Googly Eyes and Other Embellishments
Steps: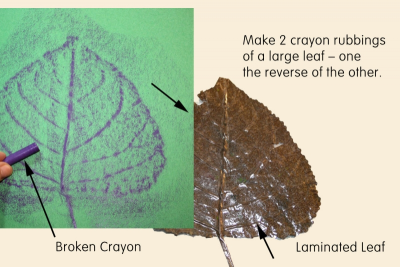 PART ONE - BODY
Laminate or seal the leaf in some way.
Place a piece of construction paper on top of the leaf.
Colour on top of the paper with the side of a broken crayon to make a rubbing of the leaf.
Remove the paper.
Turn the leaf over and make a rubbing of it on a new piece of construction paper.
- This rubbing should be the reverse of the first one.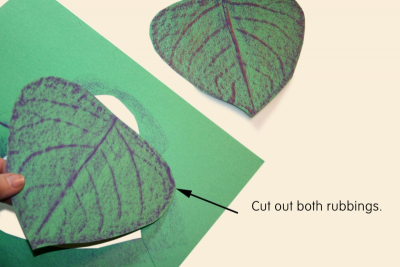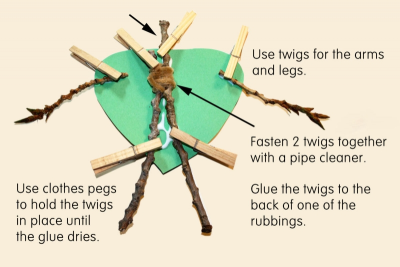 Glue two twigs to the back of one of the rubbings for arms.
Use a pipe cleaner to join two longer branches together at one end.
Use these for the legs and the neck.
- They should be close together at the top, and far apart at the bottom.
- Let one of the branches extend about 3 cm past the other where you join them.
Use clothes pegs to hold the twigs in place until the glue dries.
Once the glue is dry remove the clothes pegs.
Glue cotton balls on either side of the branches.
Squeeze glue around the outer edge of the leaf.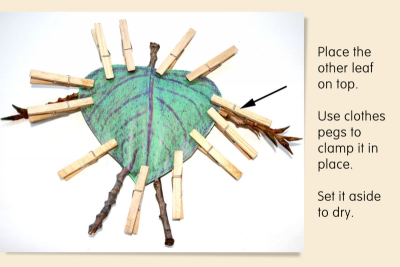 Place the other leaf rubbing on top.
Use clothes pegs to clamp it in place.
Set it aside to dry.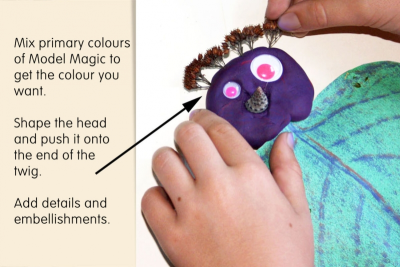 PART TWO - HEAD
Mix primary colours of Model Magic to get the colour you want.
Shape the head and push it onto the stick.
Make sure the stick goes completely inside and to the top of the Model Magic.
- This will support the head and keep it from falling off.
Add details and embellishments.
PART THREE - BASE
When the Model Magic is completely dry make Model Magic feet.
Push the feet onto the ends of the legs.
Press the Model Magic feet onto a branch or stone to attach your sculpture to it's base.
- The Model Magic should stick when you press it onto the surface, but you may want to add glue to make it extra secure.
View your sculpture character with fresh eyes.
- Answer the questions in the ALL ABOUT questionnaire as if the character is you.
Subjects:

Language Arts,

Mathematics,

Science,

Visual Arts

Grades:

Grade 2,

Grade 3,

Grade 4,

Grade 5,

Grade 6
---
Related Lesson Plans