Supplies:
Crayola Fine Line Markers - 12 Count
Crayola Marker & Watercolour Paper - 22.9 cm x 30.5 cm
Crayola Paint Brushes - Round
Crayola Acrylic Paint - 6 Count
Crayola Model Magic - Assorted Colours
Large Flat Stones
Photograph of a Flower
Water Containers
Paper Towels
Steps: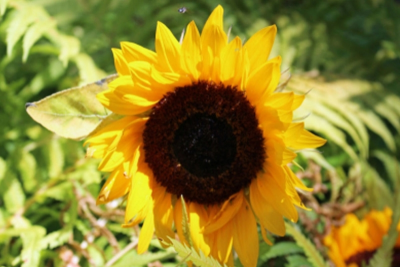 Find a flower outside, or choose from a variety of flower images.
Begin at the centre of the flower and draw the image outward on sketch paper creating a balanced, circular pattern, and repeating shapes.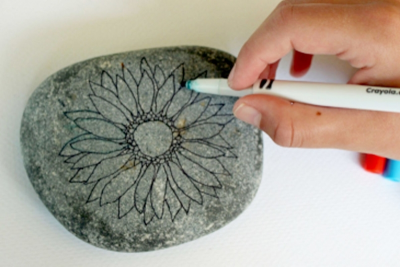 Find a large flat stone outdoors.
Ask permission to use the stone in an artwork, and thank the earth for sharing the stone with you.
Draw the flower image onto the stone, beginning in pencil with the centre of the flower.
Use a balanced, circular pattern and repeat shapes and contrasting colours.
Trace over the pencil drawing with a black fine line marker.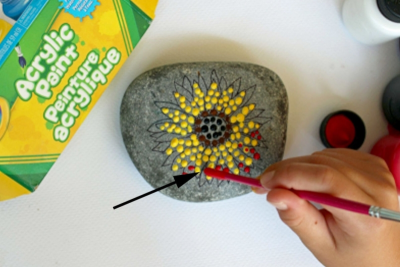 After viewing the artwork of artist Christi Belcourt, examine the flower drawn on the stone and decide on a variety of colours to paint the flower.
Paint in the style of Christi Belcourt.
Use the end of a paint brush to paint bead-like circles onto the flower.
Make sure the colours contrast with each other in different sections of the flower so that the image is clear.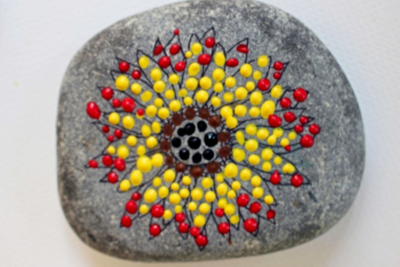 Fill the entire flower with colour, working from the centre outwards (similar to a mandala).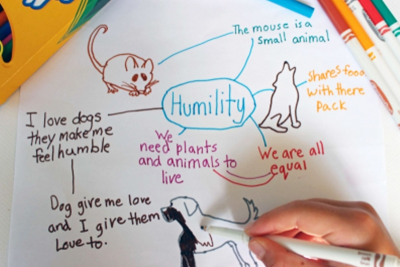 After reading about, and discussing the Seven Grandfather teachings, brainstorm the teaching of humility.
- What animals represent humility?
- What does humility mean to you?
- Share a time you have experienced humility in your life.
- What do humans need to survive?
- How do plants and animals help humans live?
- What animal do you feel connected to? Why?
- What is your relationship with animals?
Reflect on the word humility and your relationship to plants and animals.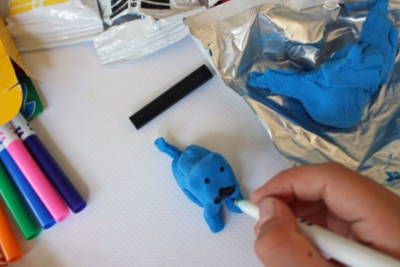 Choose an animal you feel connected to.
Use Model Magic to form the animal, smoothing together separate pieces.
Add detail to the animal using markers that contrast with the Model Magic.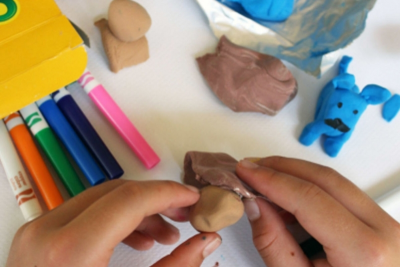 Create a self-portrait using Model Magic.
Mix colours together to make a variety of skin tones, for example, red, white, yellow, with some blue makes a skin tone.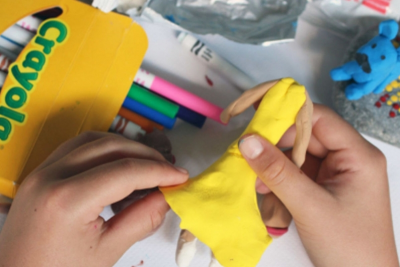 Add clothes to your self-portrait using a variety of colours.
Use markers to add detail to your face.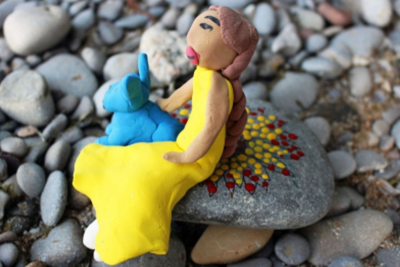 Set up your self-portrait and the animal you feel connected to on top of the painted flower stone.
Share your sculpture with your classmates.
Reflect on the connections between plants, animals, and people, and the meaning of humility.
Subjects:

Language Arts,

Science,

Visual Arts,

First Nations, Metis, Inuit

Grades:

Grade 1,

Grade 2,

Grade 3,

Grade 4,

Grade 5,

Grade 6,

Grade 7,

Grade 8
---
Related Lesson Plans