Supplies:
Crayola Model Magic Classpack - Assorted Colours
Ribbon or String
Bamboo Skewers or Toothpicks
Large Star Shaped Cookie Cutters
Steps: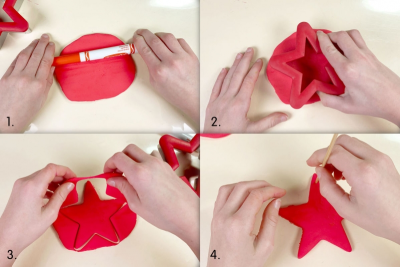 Use a small piece of Model Magic for your star (about 28 g (1 oz).
- for a Santa choose red
- for an elf choose green – mix blue and yellow together to make green
Flatten the Model Magic with your hand.
Use a marker to roll it smooth.
Press the star cookie cutter into the flattened Model Magic.
Gently pull the excess Model Magic away from the star shape.
Use a bamboo skewer to poke a hole in one of the tips.
Gently press small pieces of Model Magic onto the star to add details.
Mix primary colours to make new colours.
Model Magic will stick to itself without glue.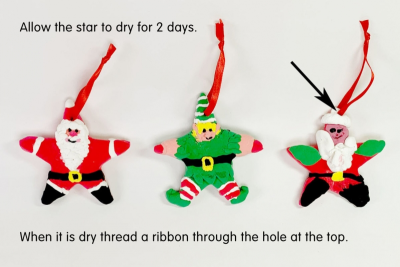 Allow the star to dry for 2 days.
When it is dry thread a ribbon through the hole at the top.
Tie the two ends of the ribbon together.
Hang your star on a tree or a hook.
Subjects:

Grades:

Kindergarten,

Grade 1,

Grade 2,

Grade 3,

Grade 4,

Grade 5,

Grade 6
---
Related Lesson Plans