Supplies:
Crayola Broad Line Markers - 10 Count
Crayola Fine Line Markers - 12 Count
Crayola Marker & Watercolour Paper - 22.9 cm x 30.5 cm (9" x 12")
Crayola Regular Crayons - 24 Count
Overhead Transparency - 14 cm x 21.6 cm (5 ½" x 8 ½") - 1 per student
Masking Tape
Water Containers
Small Pieces of Sponge - about 3 cm x 3 cm (1 ½" x1 ½ ") - 1 per student
Paper Towels
Rulers
Pencils
Steps: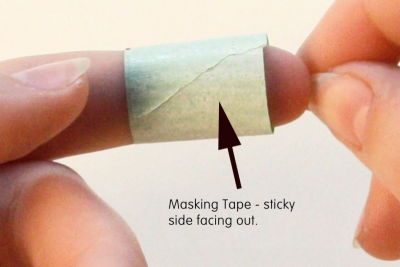 Roll a piece of masking tape with the sticky side facing out to make a loop.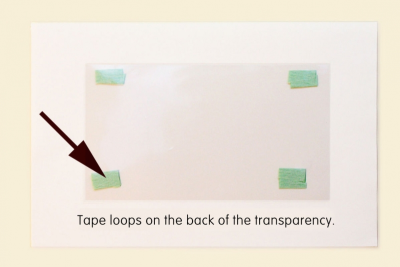 Use the loops to fasten the plastic transparency to the paper.
Make sure the tape is on the back of the transparency.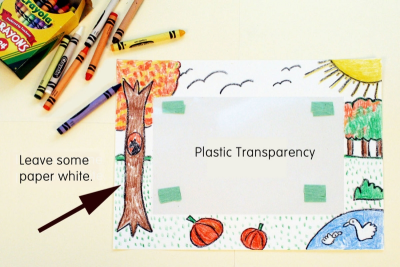 Use crayons to colour a scene or design on the outside edges of the paper.
Press hard with the crayon.
Leave some paper white.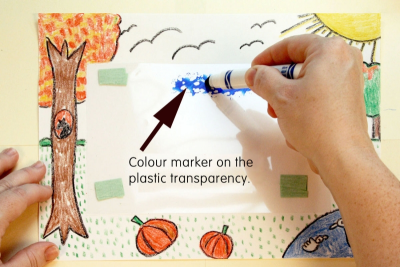 Colour a patch of marker ink on the edge of the plastic transparency.
Make sure the ink stays on the transparency.
Dip a small piece of sponge into the water.
Squeeze some of the water out of the sponge.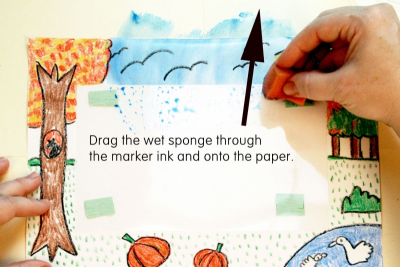 Drag the wet sponge through the marker ink and onto the crayon design.
Continue in this way until the outer frame is complete.
You have made a stencil print.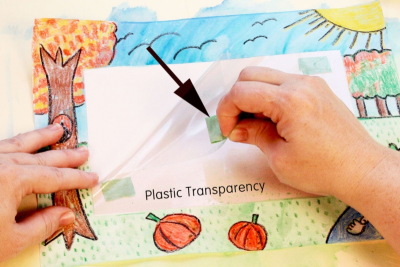 Gently remove the plastic transparency from the paper.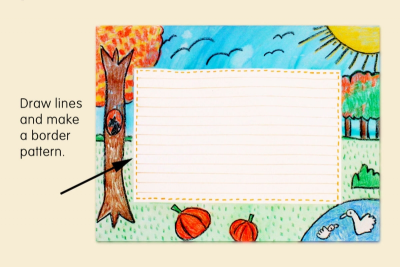 Use a ruler to measure and mark 1 cm spaces down both ends of the blank shape.
Use a fine line marker to connect the marks with lines for your writing.
Use a marker to make a border pattern inside the blank shape.
Fill your decorated page with some wonderful writing.
Subjects:

Language Arts,

Science,

Visual Arts

Grades:

Grade 1,

Grade 2,

Grade 3,

Grade 4,

Grade 5,

Grade 6,

Grade 7,

Grade 8
---
Related Lesson Plans