Supplies:
Crayola Modeling Clay
Various Texture Making Tools
Garlic Press
Plastic Placemats
Steps: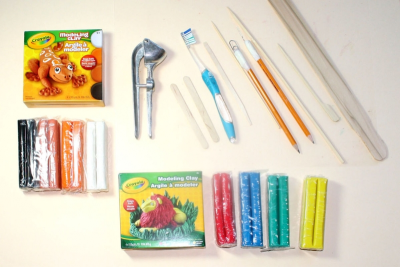 Gather a variety of tools for creating texture and joining the modeling clay.
You can make a pin tool by taping an open paper clip to the end of a pencil.
Make a gouging tool by taping a paper clip to the end of a pencil.
Other useful tools are a garlic press, comb, skewer and toothbrush.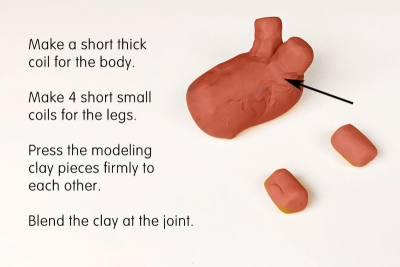 DOG
Roll out a short thick coil for the body.
Make 4 short small coils for the legs.
Press the modeling clay pieces firmly to each other.
Use a stick or your fingers to blend the clay at the joint to make it stronger.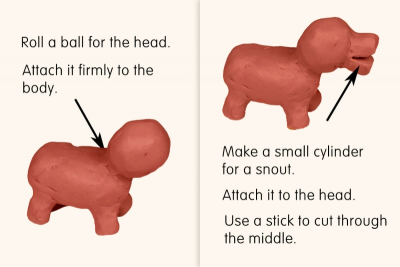 Roll a ball for the head.
Attach it firmly to the body.
Make a short cylinder for a snout.
Attach it to the ball.
Use a stick to cut through the middle of the snout.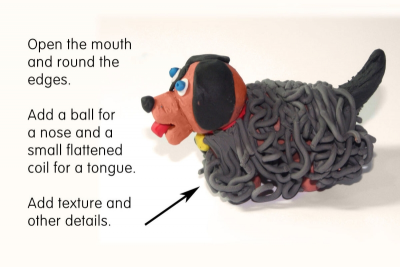 Open the mouth and round the edges.
Add a ball for a nose and a small flattened coil for a tongue.
Add texture and other details to make your animal unique.
Make sure your animal looks good from all directions.
Subjects:

Grades:

Grade 1,

Grade 2,

Grade 3,

Grade 4,

Grade 5,

Grade 6,

Grade 7,

Grade 8,

Grade 9,

Grade 10
---
Related Lesson Plans