Supplies:
Crayola Model Magic - Assorted Colours
Crayola Scissors
Geometric Shape Tracers
Garlic Presses
Toothpicks
Mat Board or Masonite Board - 15 cm x 15 cm (6" x 6") - 1 per student
Steps: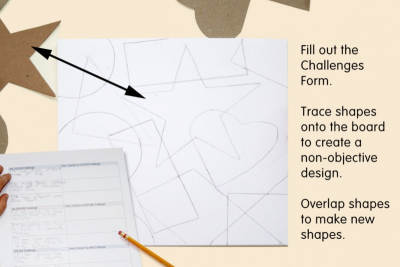 Think of 3 challenges for each element and fill out the Challenges Form. (Downloads - ChallengesForm.pdf)
Trace shapes onto the board to create a non-objective design.
Overlap some of the shapes to create new shapes.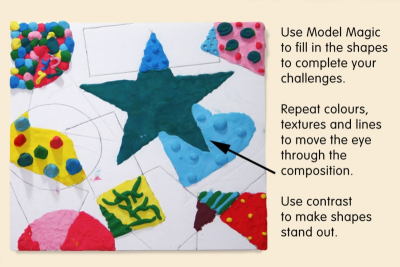 Use Model Magic to fill in each of the shapes to complete your challenges.
Repeat colours, textures, and lines to move the eye through the composition.
Use contrast to make the shapes stand out.
As you work remember to check to see if you are meeting all of your challenges.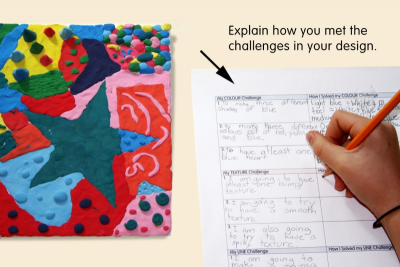 Explain how you met the challenges in your design.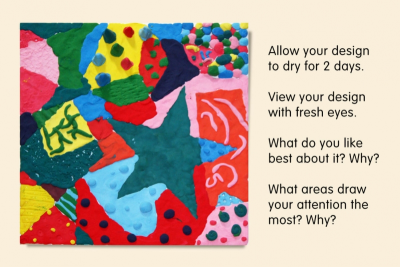 Allow the design to dry for 2 days.
View your design with fresh eyes.
- What do you like best about it? Why?
- What areas draw your attention the most? Why?
- How does your eye move through the composition? Why?
Subjects:

Language Arts,

Mathematics,

Visual Arts

Grades:

Grade 1,

Grade 2,

Grade 3,

Grade 4,

Grade 5,

Grade 6,

Grade 7,

Grade 8
---
Related Lesson Plans