Supplies:
Crayola Air Dry Clay
Crayola Acrylic Paint
Crayola Paint Brushes
Flat Wooden Slats .5 cm thick - 2 per group
Rolling Pins - 1 per group
Small Bowls - 1 per student
Water Containers
Paper Towels
Fresh Leaves
Plastic Wrap
Large Plastic Container Lids - about 15 cm (6") diameter - several per group
Steps: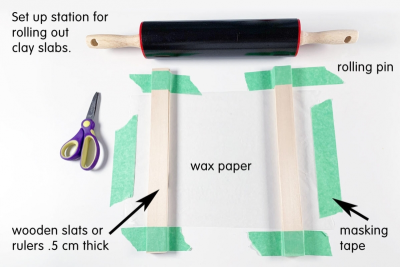 Set up stations for rolling out clay slabs - one per group of students.
- Tape a sheet of wax paper on desk.
- Tape a wooden slat on each side of the wax paper.
- Place a rolling pin at each station.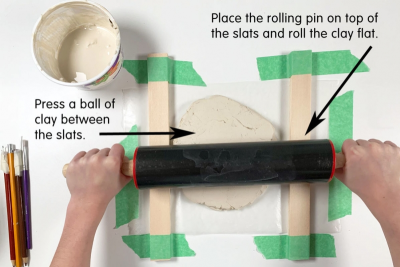 Press a ball of clay between the wooden slats.
Place the rolling pin on top of the wooden slats and roll the clay flat.
Make sure the slab has uniform thickness.
Roll the clay slab big enough for the circle you plan to use - about 15 cm (6") diameter.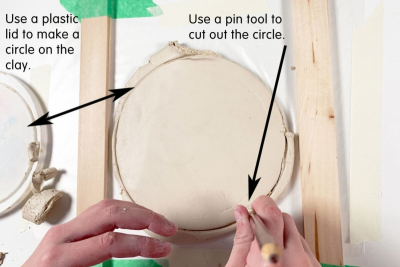 Use a large plastic container lid to make a circle on the clay slab.
Use a pin tool or plastic knife to cut out the circle.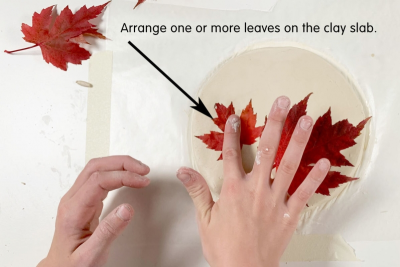 Move the clay slab to a fresh piece of wax paper that has been taped to the desk.
- This will help you remove the clay from the table when you are finished.
Arrange one or more leaves on the clay slab.
Make sure the leaves are still soft.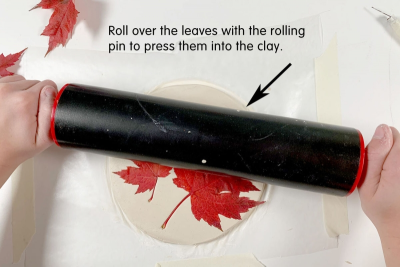 Roll over the leaves with the rolling pin to press them into the clay.
Gently remove the leaves.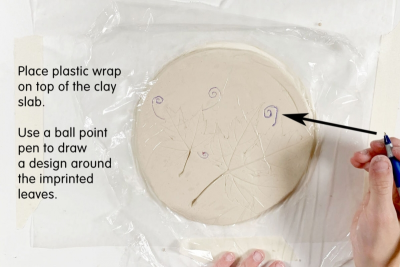 Place plastic wrap on top of the clay slab.
Make sure it is flat and smooth.
Use a ball point pen to draw a design in the clay around the imprinted leaves.
Remove the plastic wrap when you are finished.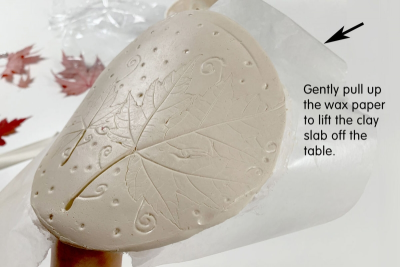 Remove the tape from the wax paper.
Gently pull up the wax paper to lift the clay slab off the table.
Remove the wax paper from the back of the clay.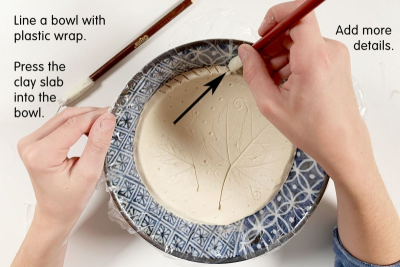 Line a bowl with plastic wrap.
Gently press the clay slab into the bowl.
Add more details to the rim.
Allow the clay to dry for one week.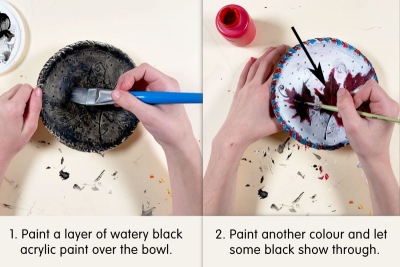 Paint a layer of watery black acrylic paint over the bowl.
Allow it to dry thoroughly.
Paint another watery acrylic colour over the black paint.
Allow some of the black paint to show through.
Paint the back of the bowl too.
Subjects:

Language Arts,

Science,

Social Studies,

Visual Arts

Grades:

Grade 4,

Grade 5,

Grade 6,

Grade 7,

Grade 8
---
Related Lesson Plans