Supplies:
Crayola Crayons - white, pink
Crayola Construction Paper - 22.9 cm x 30.5 cm (9" x 12") - brown, black, white
Crayola Washable Glue Sticks
Crayola Doodle Pad - Newsprint Paper - 1 piece per student
Iron
Parchment Paper
Write-On Overhead Transparencies - 1 per student
Steps: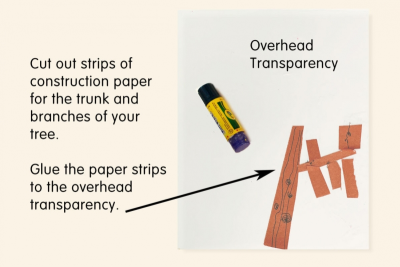 Cut out strips of construction paper to use for the trunk and branches of your tree.
Use a glue stick to glue the strips of paper to the overhead transparency.
Make sure you use lots of glue.
Press the paper onto the transparency and gently rub over it with your fingers to flatten it.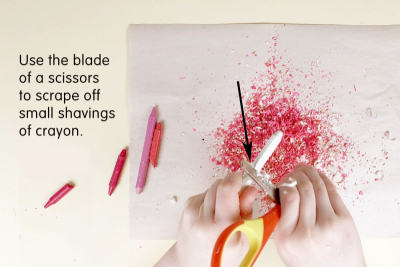 Use white and pink crayons for the blossoms on your tree.
Remove the paper from the crayons.
Use the blade of a scissors to scrape off small shavings of crayon onto a piece of newsprint paper.
Make about 1/3 cup of mixed shavings.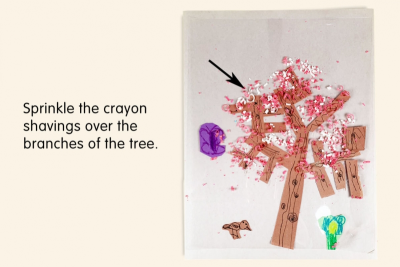 Sprinkle the crayon shavings over the branches of the tree.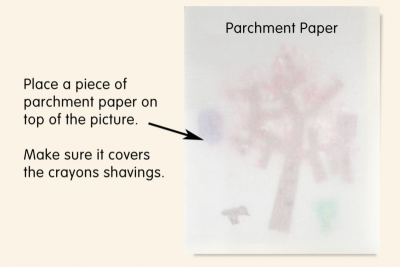 Place a piece of parchment paper on top of the transparency.
Make sure it covers the crayon shavings.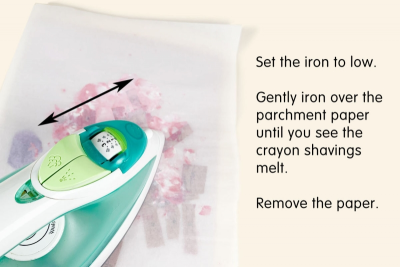 Set the iron to low.
Gently iron over the parchment paper until you see the crayon shavings melt.
Remove the iron.
Gently remove the parchment paper.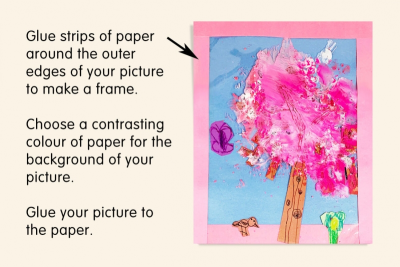 Cut 4 strips of construction paper about 2.5 cm x 29 cm (1" x 11").
Glue the paper strips around the outer edges of your picture to make a frame.
Choose a contrasting colour of construction paper for the background of your picture.
Cut the paper to be the same size as your picture.
Apply glue to the outer edges of the paper and glue your picture to it.
Gently touch the surface of your picture.
What textures do you feel?


Subjects:

Language Arts,

Science,

Visual Arts

Grades:
---
Related Lesson Plans