CANADIAN ART SAMPLER – Elements, Principles, Research

Students choose 9 Canadian artists and make miniature drawings that imitate their paintings using construction paper crayons or oil pastels on black foam core board.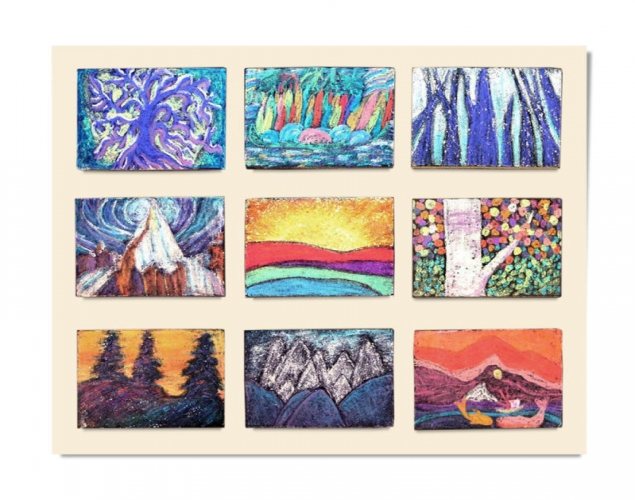 Supplies:
Crayola Construction Paper Crayons or Crayola Oil Pastels - 16 Count
Crayola Construction Paper - 30.5 cm x 45.7 cm (12" x 18")
Crayola Washable Glitter Glue
Crayola Washable Glue Sticks
Black Foam Core Board - 5 cm x 8 cm (2" x 3") - 9 per student
Steps: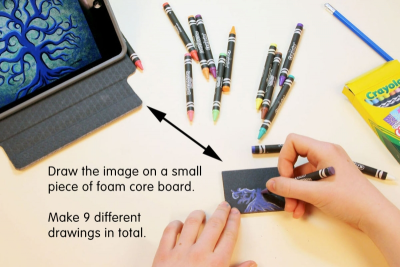 Find images of Canadian paintings on the Internet.
Select 9 that represent different elements and principles of design.
Use construction paper crayons or oil pastels to draw the images on small pieces of black foam core board 5 cm x 8 cm (2" x 3").
Make 9 different drawings in total.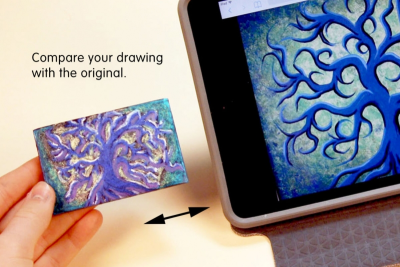 Compare your drawing with the oringinal.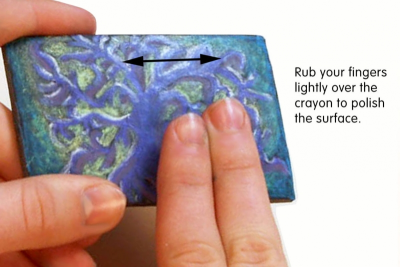 If you are using Construction Paper Crayone rub your fingers lightly over the crayon to polish the surface.
Decide if you want to add a small amount of glitter glue to highlight parts of the image. (You may decide to add glitter glue to all, some or none of the drawings.)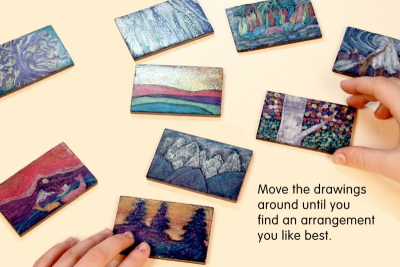 Move the drawings around trying different arrangements until you find the one that you like best.
There should be 3 rows of 3.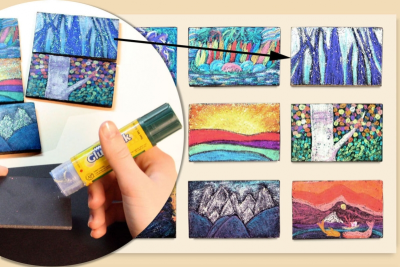 Once you are satisfied with the arrangement glue the drawings to a piece of construction paper or Bristol board.
Fill in the Canadian Art Sampler Guide. (Downloads – CanadianArtSamplerGuide.pdf)
- Name of the artist
- Title of the painting (if you found it)
- Interesting fact about the artist
- Dominant Element and Principle
Subjects:

Language Arts,

Social Studies,

Visual Arts

Grades:

Grade 4,

Grade 5,

Grade 6,

Grade 7,

Grade 8,

Grade 9
---
Related Lesson Plans