Supplies:
Crayola Super Tip Markers - 50 Count
Crayola Colours of the World Markers - 24 Count
Crayola Sketchbooks - 1 per student
Crayola Marker & Watercolour paper - 22.9 cm x 30.5 cm (9" x 12")
Crayola Washable Glue Sticks
Rulers
Pencils
Erasers
Steps: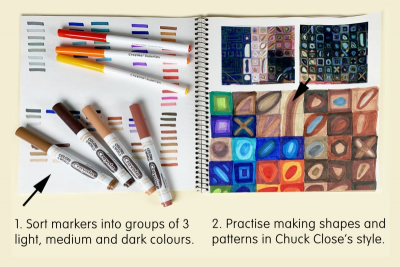 Sort your markers into groups of 3 light, medium and dark colours you like.
Practise working on a small grid making shapes and patterns the way Chuck Close does.
- repeated squares
- triangles
- lozenges
- right-angles
- ovals
Think about how to make some areas dark and other areas light.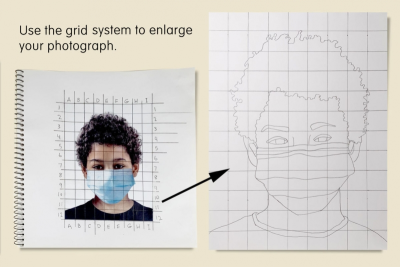 Work with a partner to take pictures of each other.
Pose in the style of Chuck Close.
- close-up front view
- serious expression
- head and shoulders only
Resize the photo so it is 11.4 cm x 15.2 cm (4 ½" x 6").
Cut it out and glue it into your sketchbook.
Use the grid system to enlarge the photo to 22.9 cm x 30.5 cm (9" x 12"). (See the Picture This lesson plan available on this website.)
- draw a grid with 1.3 cm (½") squares on top of the photograph
- assign a letter to each column of the grid
- assign a number to each row of the grid
- draw a grid with 2.5 cm (1") squares on the 20.9 cm x 30.5 cm (9" x 12") paper
- assign matching letters to the columns of the grid
- assign matching numbers to the rows of the grid
- use the letter/number combination on the photograph to find the corresponding section on the larger grid
- drawthe shapes you see in each section of the grid on the photograph in the corresponding section of the larger grid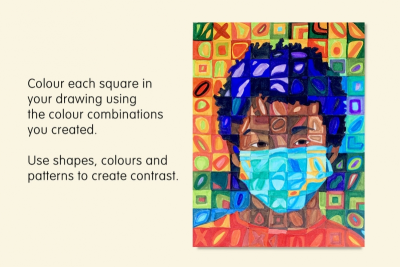 Colour each square in your drawing using the colour combinations you created.
Use shapes, colours and patterns to create contrast.
View your finished portrait with fresh eyes.
- How is it like the work of Chuck Close?
- How is it different?
- What do you like best about the drawing? Why?
Subjects:

Language Arts,

Mathematics,

Visual Arts

Grades:

Grade 6,

Grade 7,

Grade 8,

Grade 9
---
Related Lesson Plans