Supplies:
Crayola Watercolour Paints - 8 Count
Crayola Marker & Watercolour Paper - 22.9 cm x 30.5 cm (9" x 12")
Crayola Paintbrushes - 5 Count
Pipettes - 1 per student
Drinking Straws - 1 per student
Water Containers
Paper Towels
Steps: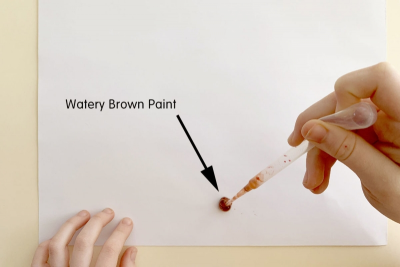 Mix some brown paint with water to make a watery solution.
Use a paintbrush or pipette to drop a small amount of paint onto the bottom of your paper.
This will become a branch.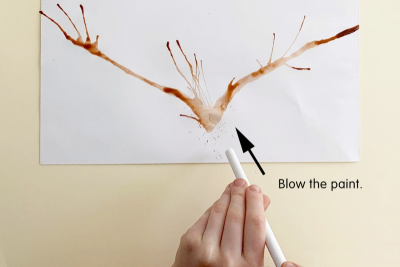 Place a straw close to the paint.
Blow the paint away from you and towards the top of the paper.
Continue dropping paint and blowing it both upwards and sideways to create several stems and branches.
Set your work aside to dry.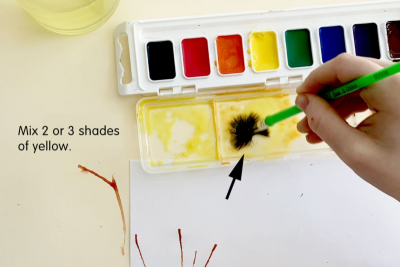 Mix together 2 or 3 shades of yellow.
Water them down in the same way you watered down the brown paint.
The yellow shades you have mixed will become the forsythia flowers.
Water down a small amount of green paint as well.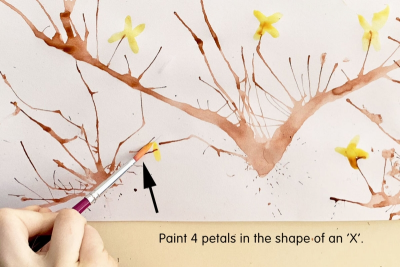 Use a small, round paintbrush to make the flowers.
Use your paintbrush to make four yellow petals in the shape of an X.
Continue making many petals all around your branches.
Use all three colours of yellow.
While the yellow flowers are still wet, drop in some small amounts of green.
This will look like the little leaves that the flower grows out of.
Set your painting aside to dry.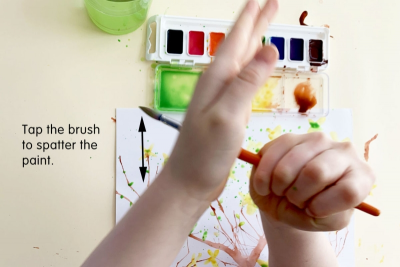 Make a watery solution of green paint.
Load your paintbrush with the watery paint.
Hold the brush in one hand.
Tap the brush handle with the edge of your other hand to spatter paint all over your picture.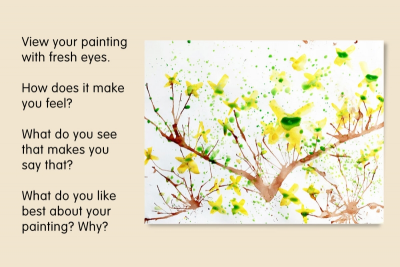 View your painting with fresh eyes.
- How does it make you feel?
- What do you see that makes you say that?
- What do you like best baout your painting? Why?
Subjects:

Language Arts,

Science,

Visual Arts

Grades:

Pre-Kindergarten,

Kindergarten,

Grade 1,

Grade 2,

Grade 3
---
Related Lesson Plans