THE RULE OF THIRDS – Composition, Dominance

Students engage in critical thinking activities that help them understand how to frame a still or moving image using the rule of thirds. They use the rule of thirds to compose a coloured pencil drawing and then replicate the drawing using a digital camera or iPad.
Supplies:
Crayola Coloured Pencils - 24 Count
Crayola Marker & Watercolour Paper - 22.9 cm x 30.5 cm (9" x 12")
Crayola Glue Sticks
Digital Camera or iPad
Rulers
Pencils
Steps:
Work with your paper in the horizontal (landscape) position.
Divide the paper into 4 quarters. The rectangles in each quarter should measure 8.9 cm x 11.4 cm (3.5" x 4.5").
Draw the rule of thirds grid inside each quarter. The grid within each rectangle should measure 3.2 cm x 3.8 cm (1.25" x 1.5") per rectangle, roughly representing nine evenly spaced small rectangles.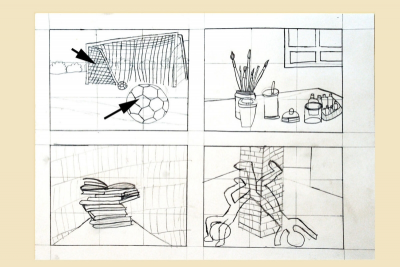 Explore the school environment and sketch four different compositions with coloured pencils.
Make sure your dominant element is located within one of the 4 intersecting points that have been penciled in during step one.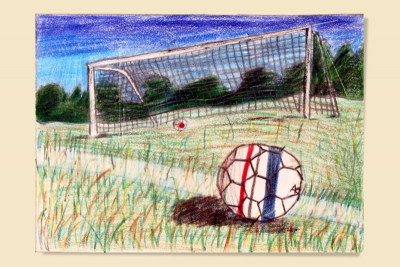 Choose your best thumbnail sketch to recreate as a final drawing.
Make the composition of your good drawing exactly the same as your thumbnail sketch.
Use coloured pencil techniques to create texture and the illusion of depth.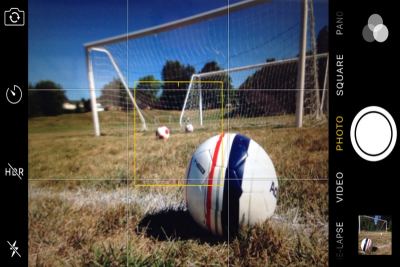 Enable the grid on your device.
>Settings > Photos & Camera >Grid >On/ Off
Take several images with your device that replicate your fine art image.
Remember you are trying to make it exactly the same as your drawing.
Email your final image to your email account.
Rename your final image rule_of_thirds.jpg and copy it to a USB.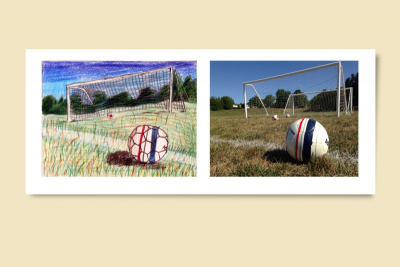 Print your photograph.
Glue the photograph and the drawing side by side on a piece of Bristol board.
Subjects:

Language Arts,

Mathematics,

Visual Arts

Grades:

Grade 7,

Grade 8,

Grade 9,

Grade 10
---
Related Lesson Plans