SPRING LANDSCAPE – Impressionism, Texture, Space

Students work on black construction paper using white tempera paint to fill in foreground, middle ground and background with a variety of brushstrokes and then paint over the white paint with colours to create a spring landscape in the style of the Impressionists.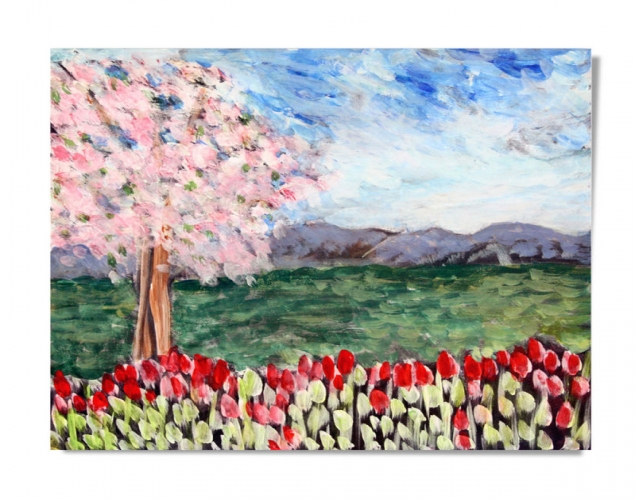 Supplies:
Crayola Washable Paint
Crayola Paint Brushes - 5 Count
Crayola Construction Paper - Black - 22.9 cm x 30.5 cm (9" x 12")
Water Containers
Paper Towels
Plastic Container Lids for Palettes
Steps: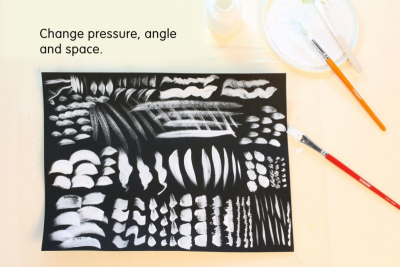 Use two different paintbrushes.
Fill the paper with different brushstrokes.
Change the way you hold the brush to make a mark.
Change the amount of pressure you use to make a mark.
Change how much space you leave between the marks.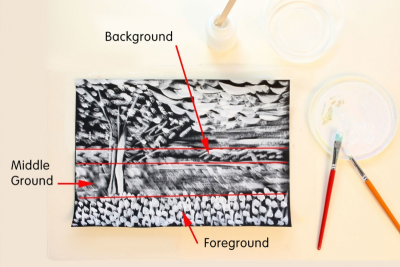 Imagine a horizon line near the top half of your paper with sky above and land below this line
Use different brush strokes to fill in the space on your paper.
- foreground - the space that seems closest to the viewer, at the bottom of the paper
- middle ground - the space in the middle of the paper between the foreground and the background
- background - the space that seems far away from the viewer, closest to the top of the paper
Make sure the brush strokes show the differences between each area.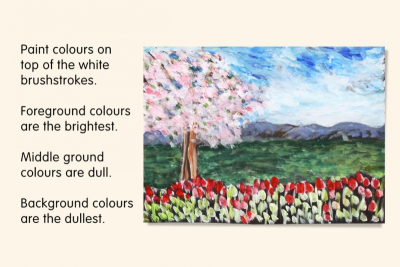 Paint over the white brushstrokes with a variety of colours.
Colours in the foreground are the brightest.
Colours in the middle ground are duller – add violet and white to dull the colour.
Colours in the background are the dullest – add more white and violet.
Subjects:

Language Arts,

Science,

Visual Arts

Grades:

Grade 1,

Grade 2,

Grade 3,

Grade 4,

Grade 5,

Grade 6
---
Related Lesson Plans