Supplies:
Crayola Watercolour Paints - 8 Count
Crayola Paintbrushes - 5 Count
Crayola Marker & Watercolour Paper - 22.9 cm x 30.5 cm (9" x 12")
Crayola Regular Crayons - White
2 Sizes of Circle Tracers - 9 cm diameter & 7.5 diameter (3 ½" & 3")
Pencils
Rulers
Water Containers
Paper Towels
Steps: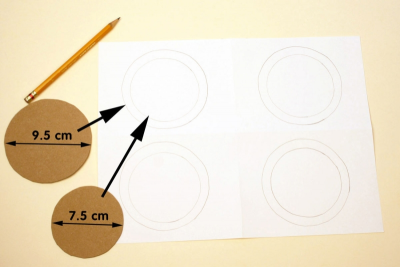 Fold your paper in half long end to long end.
Open the paper and fold it in half again this time short end to short end.
You should have 4 equal rectangles.
Use the big circle tracer to draw a circle in each rectangle.
Use the small circle tracer to draw a circle inside the big circle so the centres line up.
This will become the rind or skin of your fruits.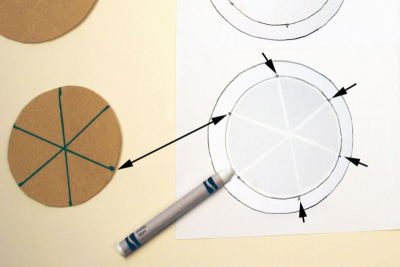 Use the lines on the small circle tracer to mark 6 dots around the outside edge of the small circles you drew on your paper.
Use a white crayon and a ruler to connect the dots across from each other.
Colour around the edge of the small circle with the white crayon.
The white crayon will resist the paint and make a border around each section after it is painted.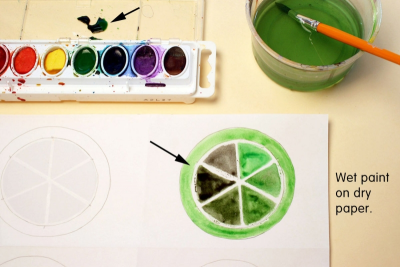 Make a small puddle of green paint in the lid of the paint box.
Do all your mixing with this paint.
Paint directly on the dry paper.
Use green paint to paint the first section of the lime.
Gradually add a small amount of black paint so that each slice is slightly darker than the one before it.
The 6th or final section should be pure black.
Clean your brush and paint box lid with paper towel.
Get clean water.
Repeat the painting process for one of the other circles using orange paint.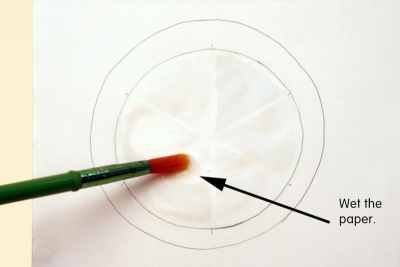 For the remaining 2 circles first wet the paper before adding paint.
Make sure the water is clear.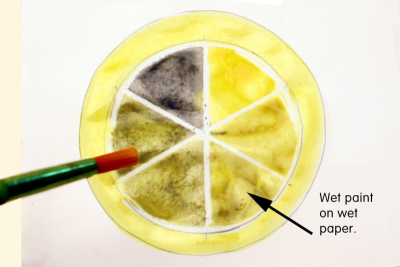 Notice how the paint flows on the paper.
How is this different than painting on dry paper?
Repeat the process using red paint for the last circle.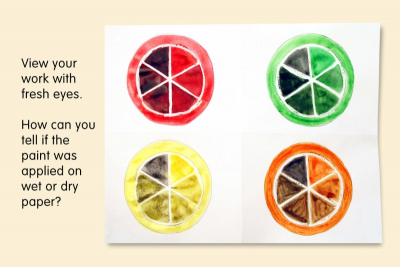 View your finished work with fresh eyes.
- How can you tell if the paint was applied on dry or wet paper?
- What did you learn about mixing shades?
- What fruits do these circles remind you of? Why?
- What do you like best about your painting?
Subjects:

Language Arts,

Mathematics,

Visual Arts

Grades:
---
Related Lesson Plans