Supplies:
Crayola Washable Glue Sticks
Crayola Scissors
Crayola Glitter Glue
Crayola Construction Paper - 22.9 cm x 30.5 cm (9" x 12") - assorted colours
Crayola Broad Line Markers
Pencils
Geometric Shape Tracers
Steps:
Choose a different coloured paper for each geometric shape.
Use the tracers to draw 3 or 4 shapes on the paper.
Use the same colour of marker as the paper when you trace your shapes. For example, use a red marker to trace circles on red paper.
Cut out all the shapes.
Hint: Cut a frame about 1 cm (1/2") around each shape before cutting on the lines. This makes it easier to hold and cut.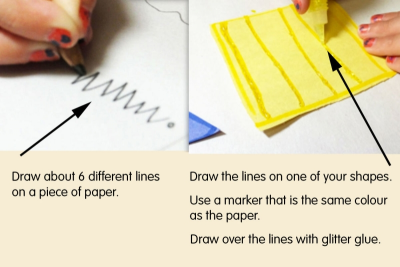 Draw about 6 different lines on a piece of paper.
Choose one of your lines to add detail to one of your shapes.
Choose one of the shapes.
Draw the line on the shape with a marker that is the same colour as the shape.
Draw over the line with glitter glue that is the same colour as your shape.
Repeat this process for each of the other shapes. Make sure you choose a different line for each new shape.
Remember to use red marker on red paper, blue marker on blue paper, and yellow marker on yellow paper.
Set the shapes aside to dry.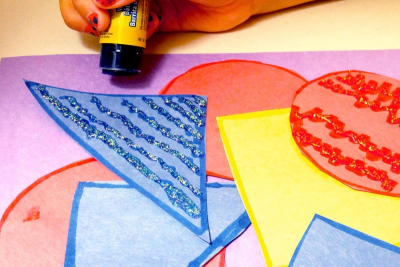 Find a background colour that you think looks best with your shapes.
Hint: Try placing your shapes on several background colours to help you decide which one you like best.
Make sure the glitter glue is dry before you begin.
Use all your shapes to create your design.
Arrange the shapes so your eye moves around the paper from one space to another in an interesting way.
Once you are happy with the way it looks glue the shapes in place.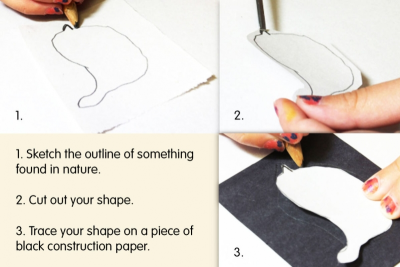 Sketch the outline of an animal, bird or something else found in nature on a small piece of paper.
- This organic shape will be a silhouette in your collage.
- Make sure the size suits your design.
Cut out your shape to make a tracer.
Trace your shape on a piece of black construction paper.
Cut out the shape.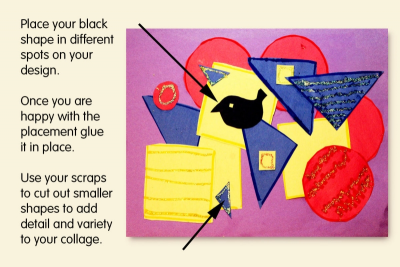 Place your black shape - your silhouette in different spots on your design.
Once you are happy with the location glue it in place.
Use your scraps to cut out smaller shapes to add detail and variety to your collage.
Subjects:

Language Arts,

Mathematics,

Visual Arts

Grades:
---
Related Lesson Plans