FAMILY HOLIDAY TRADITIONS – Bookmaking, Shape, Contrast

Students use construction paper to create a special, house-shaped book. Then they use Model Magic to create hanging ornaments to insert in the pockets of the book. They use the book to write about a family holiday tradition.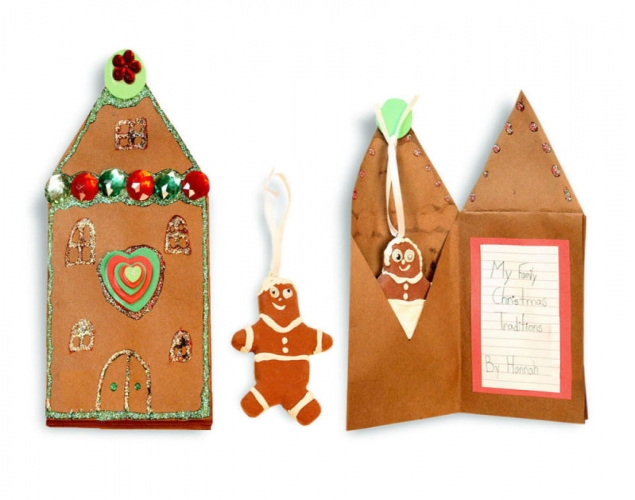 Supplies:
Crayola Model Magic Classpack - assorted colours
Crayola Scissors
Crayola Washable No-Run School Glue
Crayola Glitter Glue
Crayola Fine Line Markers - 12 Count
Crayola Construction Paper - assorted colours
Copy Paper
Embellishments
Bamboo Skewers
Ribbon
Pencils
Small Googly Eyes
Heavy Weight Construction Paper - 30.5 cm x 45.7 cm (12" x 18")
Rulers
Steps: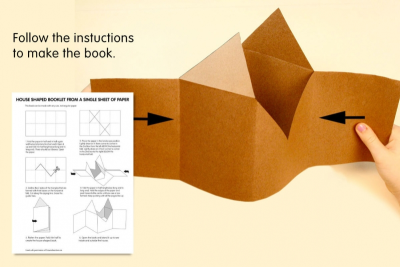 PART ONE
Choose the colour of paper you want to use for your house.
Follow the instructions to make the book. (Downloads - HouseBook.pdf)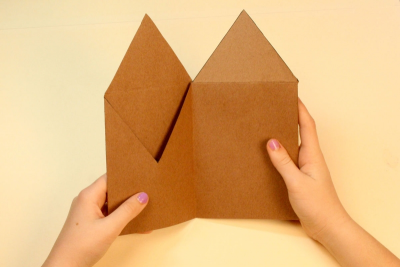 Flatten the paper and fold it in half to make the book.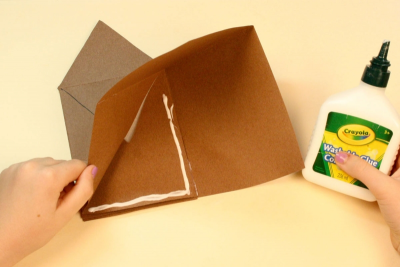 Place a thin line of glue along the bottom and the openside edge inside the page with the cutout triangle to make a pouch.
Do not put glue along the edges of the cutout trinagle.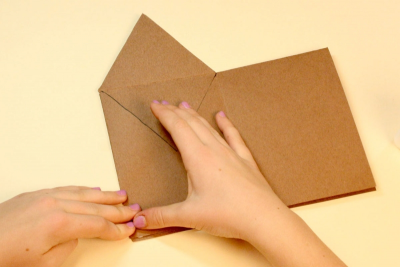 Press the paper together firmly to create a small pouch.
Repeat with the other cutout triangle page.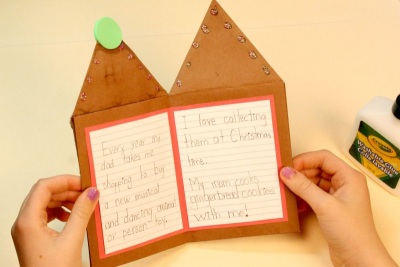 Glue writing paper on the book pages and write your story on them.
Decorate the cover.
PART TWO
Decide what shapes you want to make into hanging ornaments to include in your book.
Mix primary colours of Model Magic to create the colours you need for your shapes.
- red + yellow + blue = brown
- red + blue = violet
- red + yellow = orange
- blue + yellow = green
- add white ot a colour to make it lighter
Use a rolling pin, the barrel of a marker, or a dowel to roll the Model Magic out smooth and flat.
Make your own shapes or use cookie cutters to cut out 2 shapes.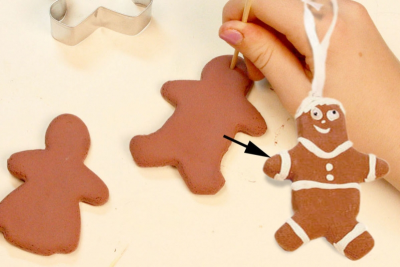 Use a bamboo skewer to make small holes at the top of the shapes.
Decorate the shapes with more Model Magic.
Allow them to dry for 2 days.
Insert a ribbon or string into the hole and tie it in a loop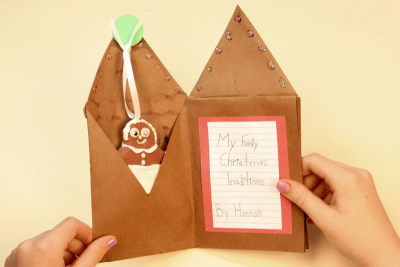 Place a Model Magic hanging ornament in each pouch.
Give the book to someone special.
Subjects:

Language Arts,

Mathematics,

Social Studies,

Visual Arts

Grades:

Grade 1,

Grade 2,

Grade 3,

Grade 4,

Grade 5
---
Related Lesson Plans