Supplies:
Crayola Modeling Clay
Canvas Boards - 15.2 cm x 20.3 cm (6" x 8") - 1 per student
Toothpicks
Steps: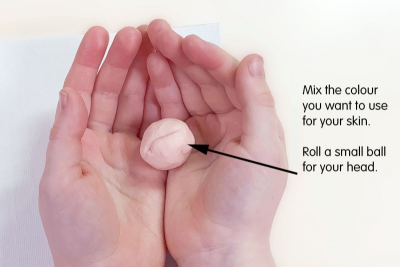 Mix the colour you want to use for your skin.
- red + blue + yellow = brown
- orange + small amount of black = brown
- brown + white = skin tone
Mix enough for arms and hands, neck and ears.
Roll a small ball for your head.

Press the ball onto the canvas board.
Flatten the ball with your fingers.
Spread the clay into a shape for your head.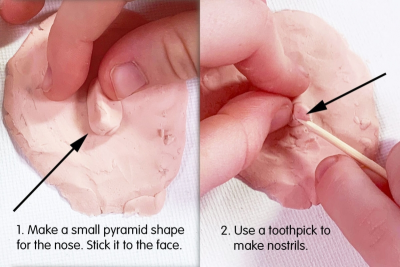 Make a small pyramid shape for the nose.
Stick it to the face.
Use a toothpick to make the nostrils.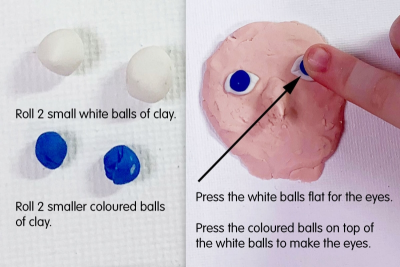 Roll 2 small white balls of clay.
Roll 2 smaller coloured balls of clay.
Press the white balls flat on the face for the eyes.
Press the coloured balls onto the white balls.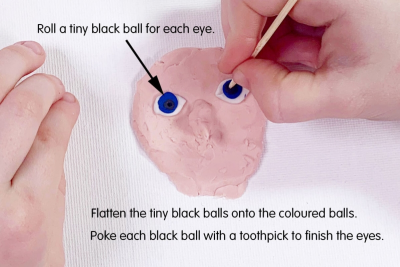 Roll 2 tiny black balls of clay.
Flatten the tiny black balls onto the coloured balls.
Poke each black ball with a toothpick to finish the eye.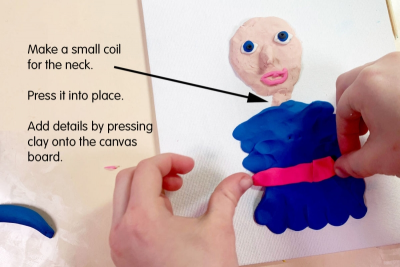 Make a small coil for the neck.
Press it into place.
Add details by pressing clay onto the canvas board.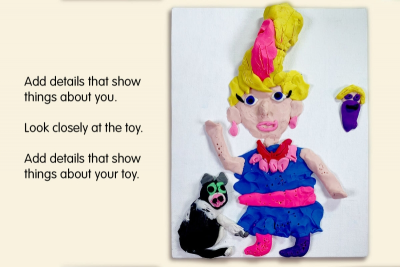 Add details that show things about you.
Look closely at your toy. Notice:
- the hair
- the arms and hands
- the legs and feet
- the clothes
- features on the face
- special characteristics
Add details that show something about your toy.
Subjects:

Language Arts,

Visual Arts

Grades:

Kindergarten,

Grade 1,

Grade 2,

Grade 3
---
Related Lesson Plans