SELF-PORTRAIT COLLAGE – Portfolio, Shape, Detail

Students use construction paper to create a self-portrait collage on a folded piece of Bristol board to be used as a personal portfolio.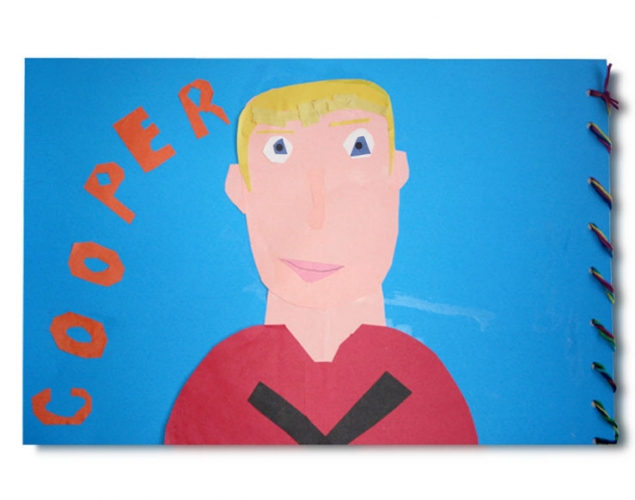 Supplies:
Crayola Construction Paper
Crayola Scissors
Crayola Glue Sticks
Bristol Board - Assorted Colours
Hole Punches
Yarn
Small Mirrors - 1 per student
Steps: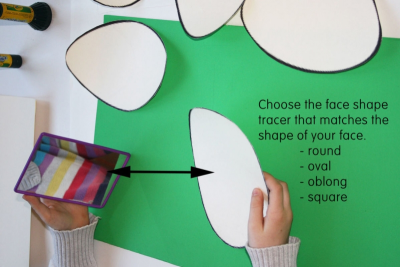 Check in a mirror to view the shape and details of your face.
Choose the face shape tracer that matches the shape of your face (oval, round, oblong, square).
Use the tracer to draw the shape on a piece of coloured construction paper.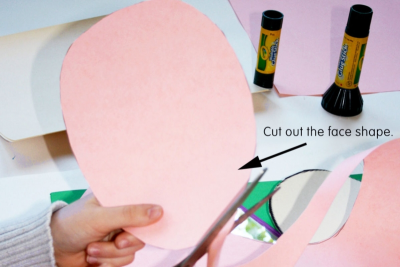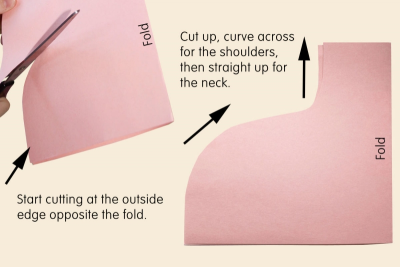 To make the shoulders and neck fold a piece of coloured paper in half short end to short end.
Start cutting at the outside edge opposite the fold.
Cut up, curve across for the shoulders and then go straight up for the neck.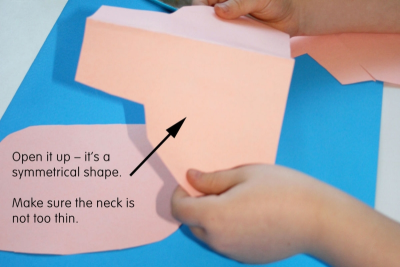 Open it up to see what you have.
It's a symmetrical shape.
Make sure the neck is not too thin.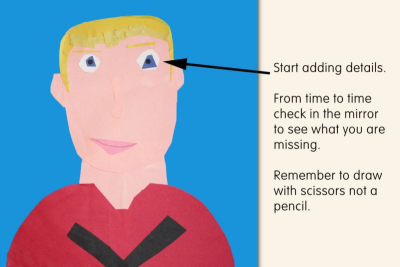 Start adding details to complete the portrait.
Remember to draw with scissors not a pencil.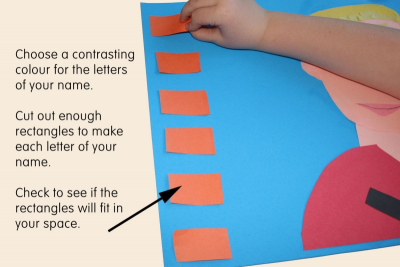 Choose a contrasting colour for the letters of your name.
Cut out enough rectangles to make each letter of your name.
Check to see if the rectangles will fit in your space.
Cut out the letters with the least number of cuts possible.
Try to visualize the shape of the letter and imagine how you could fold the paper before cutting.
You'll be cutting away the negative shapes.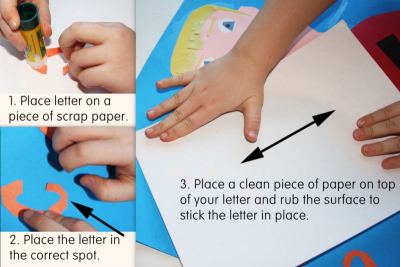 Place your letter on a piece of scrap paper before applying the glue.
Place the letter in the correct spot.
Place a clean scrap paper on top of your letter and rub the surface of the paper to stick the letter in place.
Continue until all letters have been glued in place.
Use a hole punch to make holes along one short end of the folded Bristol board.
Use yarn or ribbon to sew the Bristol board together.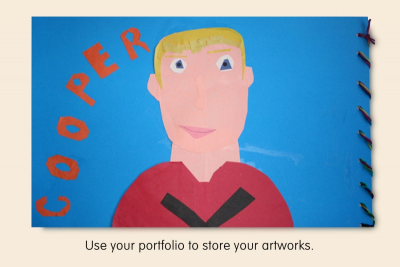 Use the portfolio to store your works in progress and finished artworks.
Subjects:

Language Arts,

Mathematics,

Visual Arts

Grades:

Grade 1,

Grade 2,

Grade 3,

Grade 4,

Grade 5,

Grade 6,

Grade 7,

Grade 8
---
Related Lesson Plans