Supplies:
Crayola Acrylic Paint
Crayola Paint Brushes
Crayola Permanent Markers
Crayola Glue Sticks
Vinyl - 30.5 cm x 30.5 cm (12" x 12") - 1 per student
Water Containers
Plastic Container Lids for Palettes
Paper Towels
White Bristol Board - 30.5 cm x 30.5 cm - 1 per student
Steps: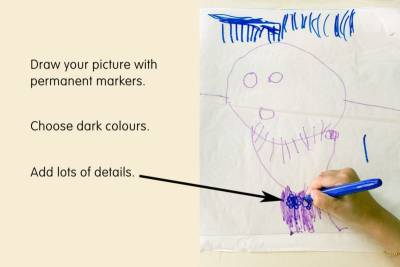 Draw your picture with permanent markers.
Add lots of details.
Let the details tell the story.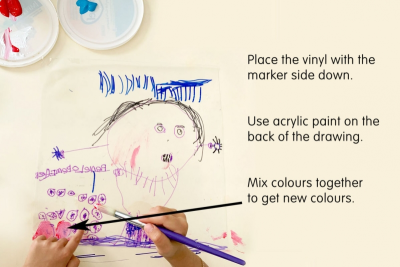 Place the vinyl with the marker side down.
Use acrylic paint on the back of the vinyl to add colour.
Paint the shapes you have drawn with lots of different colours.
Mix colours together to make new colours, for example:
- add white to any colour to make it lighter
- add blue to yellow to make green
- add red to blue to make purple
- add yellow to red to make orange
- add white to orange to make peach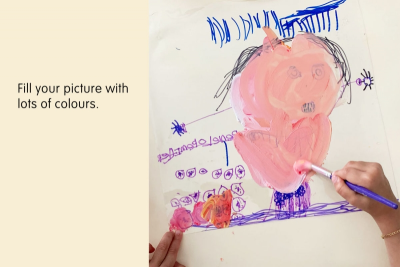 Fill your picture with lots of colours.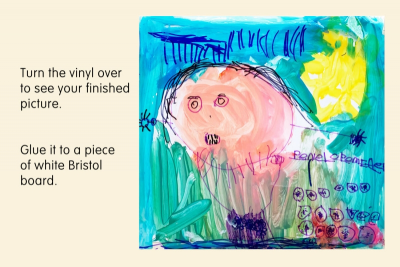 Turn the vinyl over to see your finished picture.
Place it on a piece of white Bristol board.
Glue the edges to keep it in place.
use your picture to tell your story, for example:
It was a rainy day. Then the sun came out.
The Easter bunny hid lots of eggs.
I found the eggs in the tall grass.

Subjects:

Grades:

Kindergarten,

Grade 1,

Grade 2,

Grade 3
---
Related Lesson Plans