Supplies:
Crayola Oil Pastels
Crayola Permanent Markers
Crayola Construction Paper
Crayola Marker & Watercolour Paper
Crayola Washable School Glue
Crayola Glitter Glue (optional)
Pencils
Clear Acetate - 11 cm x 13.5 cm (4.25" x 5.5")
Clear Plastic Corner Stickers - 4 per student (optional)
Steps: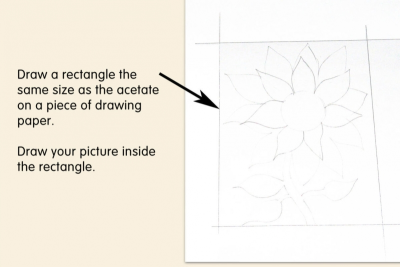 BEFORE YOU BEGIN – test the acetate. Make a mark on each side with an oil pastel and choose the side that works best. Simply rub off the oil pastel marks with a paper towel once you have completed this test.
Draw a rectangle the same size as the transparency on a piece of drawing paper.
Draw your picture inside the rectangle.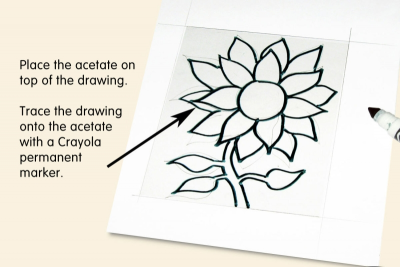 Place the overhead transparency on top of the drawing.
Trace the drawing onto the acetate with a Crayola permanent marker.
OR
Draw directly on the acetate with the oil pastel and do not outline with marker first.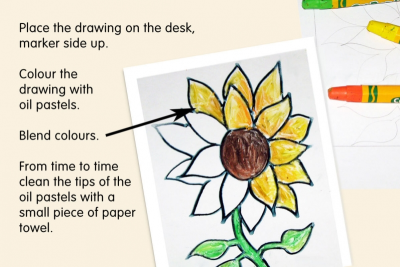 Place the drawing on the desk, marker side up.
Colour the drawing with oil pastels.
Blend colours.
From time to time clean the tips of the oil pastels with a small piece of paper towel.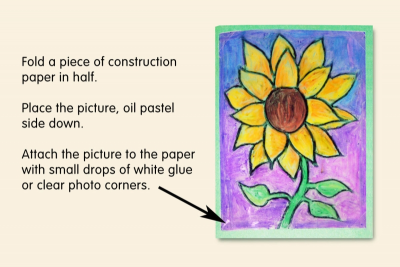 Place the picture, oil pastel side down, on different colours of construction paper until you find the colour that looks best.
Fold the construction paper in half short end to short end.
Use small drops of white glue or clear photo corners to attach the picture to the paper.
- Your picture will be reversed.
Write a message inside the card.
Subjects:

Language Arts,

Social Studies,

Visual Arts

Grades:

Grade 1,

Grade 2,

Grade 3,

Grade 4,

Grade 5,

Grade 6
---
Related Lesson Plans