DEEP BLUE SEA – Exploring Papers, Textures and Paint

Students create a 3-dimensional underwater scene using different mediums, textures and types of paper.
Supplies:
Crayola Oil Pastels
Crayola Watercolour Paints
Crayola Scissors
Crayola Glitter Glue
Crayola Crayons
Crayola Paint Brushes
Water Containers
Cardstock Paper - 21.6 cm x 27.9 cm (8 ½" x 11") - 1 piece per student
Masking Tape
Heavy Duty Aluminum Foil
Table Salt
Foam Adhesive Circles
Steps: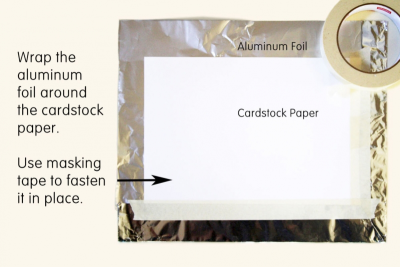 Wrap heavy duty aluminum foil around a piece of cardstock paper.
Use masking tape to fasten it in place on the back.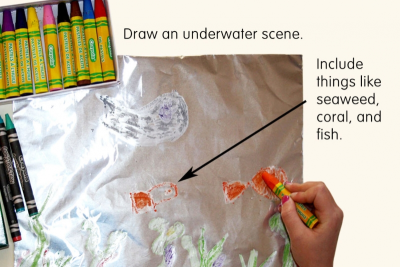 Draw an underwater scene.
Include things such as seaweed, coral, and fish.
Draw with oil pastels and crayons.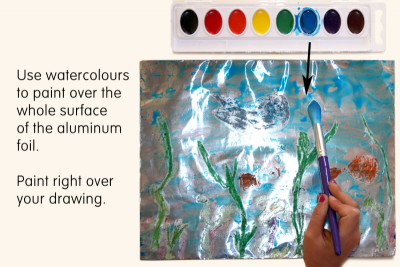 Use watercolours to paint over the whole surface of the aluminum foil.
Paint right over your drawing.
Notice what happens when the paint goes over the oil pastel.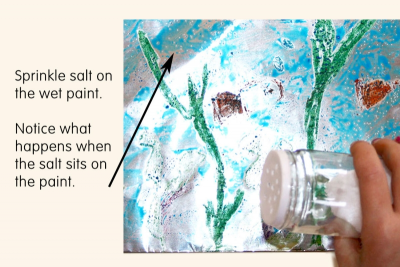 Sprinkle salt on the wet paint.
Notice what happens when the salt sits on the paint.
Draw some sea shapes on a piece of cardstock paper.
Cut out the shapes.
Paint them in bright colours.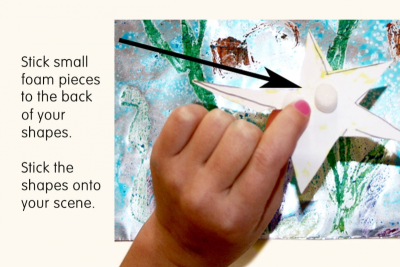 Stick small adhesive foam pieces to the back of your shapes.
Stick the shapes onto your underwater scene.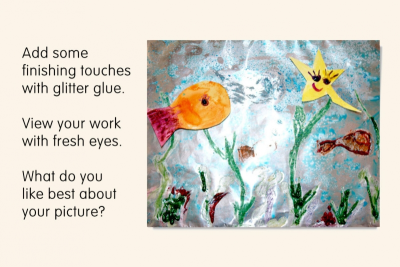 Add some finishing touches with glitter glue.
View your work with fresh eyes.
- What do you like best about your picture? Why?
- What happened when the salt sat on the wet paint?
- How does that affect the feeling of the picture?
- What part of the picture seems closest to you?
- What do you see that makes you say that?
Subjects:

Language Arts,

Science,

Visual Arts

Grades:

Pre-Kindergarten,

Kindergarten,

Grade 1
---
Related Lesson Plans