Supplies:
Crayola Washable Tempera Paint - Black
Crayola Oil Pastels - 16 count
Crayola Paint Brushes
Crayola Glitter Glue
Crayola Construction Paper - Black - 22.9 cm x 30.5 cm (9" x 12")
Crayola Marker & Watercolour Pad - 22.9 cm x 30.5 cm )9" x 12")
Sponges
Paper Towels
Pencils
Steps: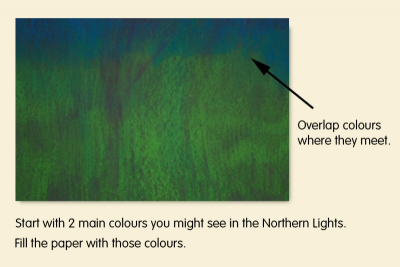 Start with 2 main colours you might see in the Northern Lights, for example, green and blue.
Fill your black construction paper with the colours.
Overlap colours where they meet.
Choose more colours that you might see in the Northern Lights, for example, yellow, violet and orange.
Add colours and blend them with a sponge.
As you add a colour change direction with your strokes to give the feeling of movement.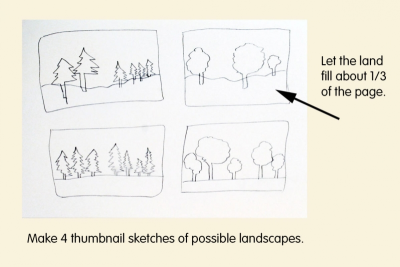 Make several thumbnail sketches of possible landscapes.
- let the land fill about ⅓ of the page
- place trees on the land in a way that moves your eye from one to the next through the whole space
- balance the positive and negative spaces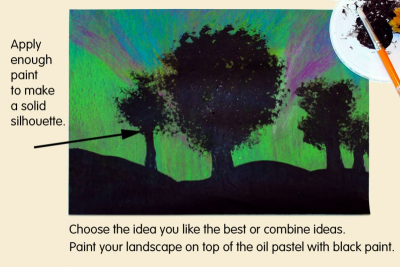 Choose the idea you like the best, or combine several ideas into a new one.
Use black tempera paint to paint your landscape over the oil pastel.
Make sure you apply enough paint to make a solid silhouette.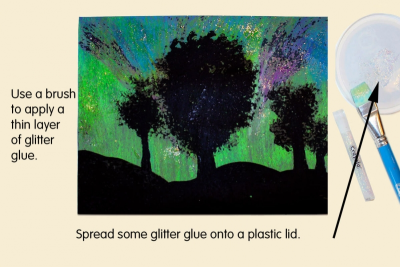 Spread some glitter glue onto a plastic lid.
Use a paint brush to apply a thin layer of glitter glue to add some sparkle to your sky.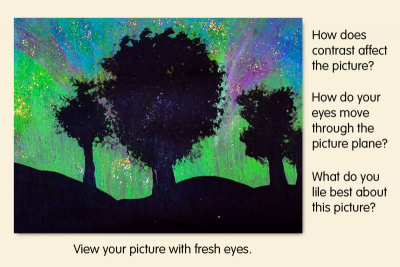 When you are satisfied with your work place the picture at a short distance.
View it with fresh eyes.
- How does contrast affect the picture?
- How do your eyes move through the picture plane?
- How does the picture make you feel?
- What do you see that makes you say that?
- What do you like best about this picture? Why?
Subjects:

Language Arts,

Science,

Social Studies,

Visual Arts

Grades:
---
Related Lesson Plans