MY STORY BOX – Personal History, Colour, Texture

Students create a box and decorate it in a personal way. Over time they use mixed media techniques to create numerous story cards to illustrate and record stories about their personal histories that they store in their boxes.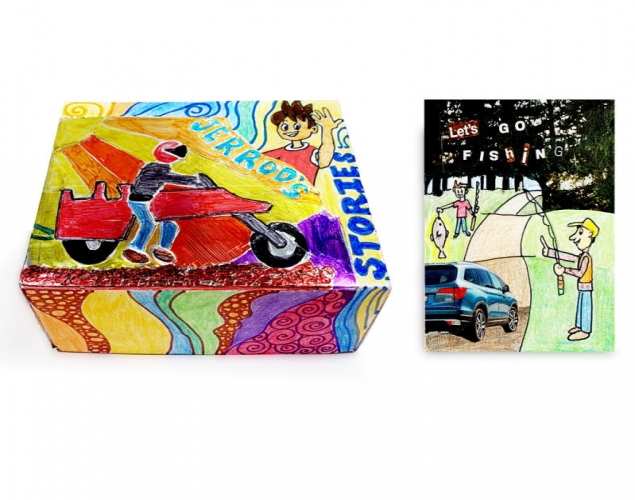 Supplies:
Crayola Markers
Crayola Permanent Markers
Crayola Coloured Pencils
Crayola Glue Sticks
Crayola Scissors
Crayola Paints
Card Stock Paper - 21.6 cm x 27.9 cm (8.5" x 11") - 2 pieces per student
Rulers
Aluminum Foil Tape
Masking Tape
Magazines
Steps: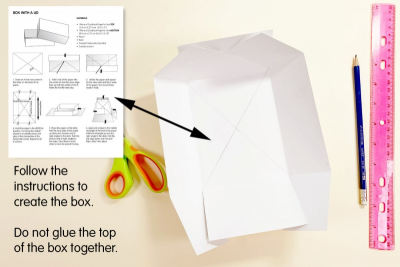 Follow the instructions to create the box top using a piece of 21.6 cm x 27.9 cm piece of cardstock paper. (Downloads - LargeBox.pdf)
Do not glue it together.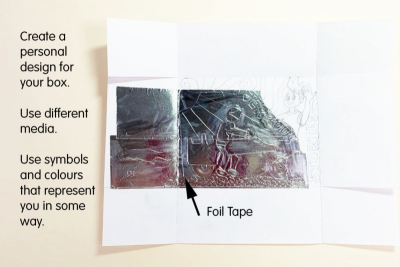 Create a personal design for your box.
Use different media.
Use symbols and colours that represent you in some way.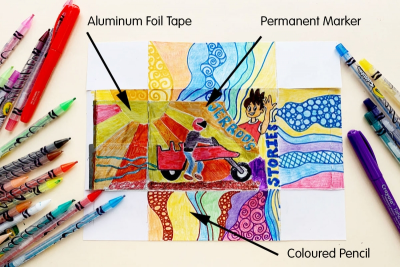 Colour the box top.
Leave the 4 corners blank – they will be folded inside.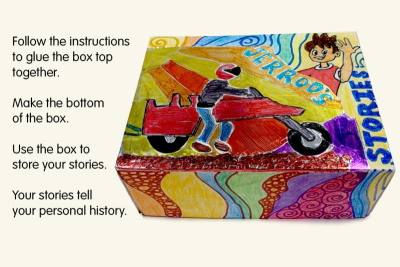 Follow the instructions to glue the box top together.
Make the bottom of the box using the 20.9 cm x 27.3 cm piece of cardstock paper.
Use the box to store your stories of special things you experience and remember.
Your stories tell your personal history.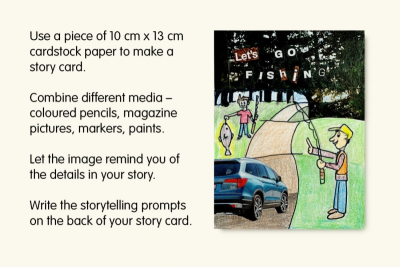 STORY CARDS
Make a card for each story. Keep adding to your collection.
Use a piece of 10 cm x 13 cm cardstock paper to make a story card.
Combine different media to make your picture - things such as coloured pencils, markers, magazine pictures, paints.
Let the image remind you of the details in your story.
Write the storytelling prompts on the back of the story card.
- beginning sentence, e.g., I remember a time when my father surprised me. It was a bright and sunny day.
- points, in order for each big part of the story, e.g.,
• winding road
• new car
• stop for gas
• stop for snacks
• stop for worms
- ending sentence, e.g., And that's how I managed to catch the biggest fish of the season.
Subjects:

Grades:

Grade 1,

Grade 2,

Grade 3,

Grade 4,

Grade 5,

Grade 6,

Grade 7,

Grade 8
---
Related Lesson Plans