Supplies:
Crayola Modeling Clay - Jumbo Pack
Crayola Scissors
Aluminum Foil
Thin Corrugated Cardboard - Small Pieces
Bamboo Skewers - 1 per student
Toothpicks
Rolling Pins
Rulers
Steps: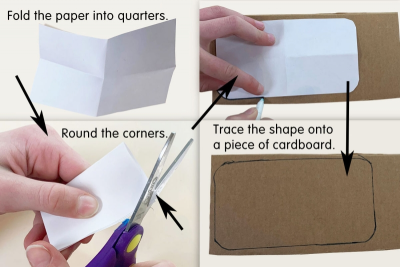 Fold a piece of paper 6 cm x 12 cm into quarters.
Round off the outside open corners.
Open the paper.
Trace the shape onto a piece of cardboard.
Cut out the cardboard shape.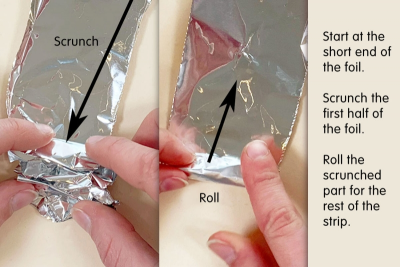 Use a strip of aluminum foil 4 cm x 10 cm.
Start at a short end.
Scrunch the first half of the foil.
Roll the scrunched part of the foil for the rest of the strip.
Make a smooth, firm cylinder.
Repeat this process to make 4 cylinders in total.
These will be the armatures for the table legs.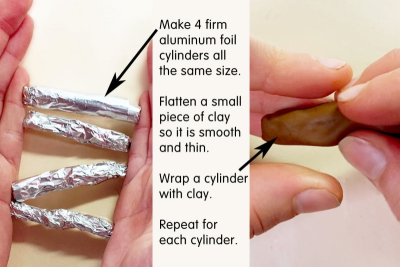 Make 4 firm, aluminum foil cylinders all the same size.
Flatten a small piece of clay so it is smooth and thin.
Wrap the clay around a cylinder.
Repeat for each cylinder to make 4 legs.
Roll a piece of clay smooth and flat.
Make it fairly thin.
Place the cardboard shape on the clay.
Use it to measure a piece that is as long as the cardboard and 2 times its width.
Cut out the shape.
Fold the clay around the cardboard shape like a sandwich.
Press the edges together and smooth the surfaces.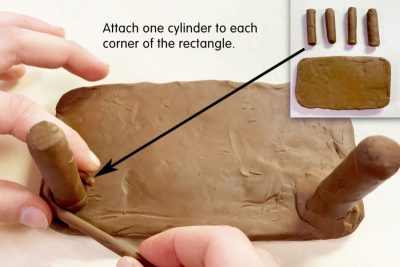 Attach one cylinder to each corner of the rectangle.
You may want to wrap a thin coil of clay around the base of each cylinder to make sure the pieces stick.
Flip the table over and make sure it is sturdy and balanced.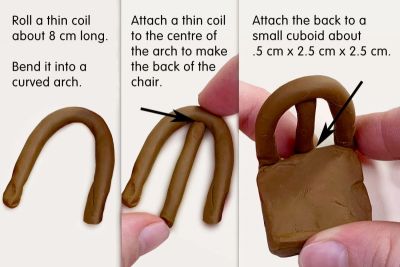 CHAIR BACK
Roll a thin coil of modeling clay about 8 cm long.
Bend it into a curved arch.
Attach a thin coil about 4 cm long to the centre of the arch.
CHAIR SEAT
Roll a small ball of clay.
Flatten it between your thumb and finger.
Squeeze it into a square to make a small cuboid about .5 cm x 2.5 cm x 2.5 cm.
CHAIR
Attach the back to one end of the cuboid.
Make 3 cm long legs the same way you did for the table.
Attach the legs to the chair seat.
Flip the chair over and make sure it is sturdy and balanced.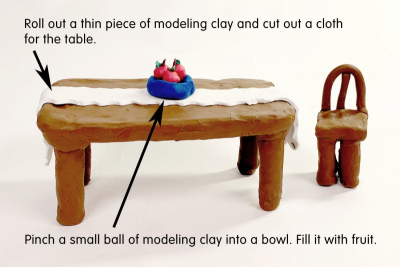 Roll out a thin piece of modeling clay.
Cut a strip to make a cloth for the table.
Add a fringe or other texture to it.
Pinch a small ball of clay into a bowl.
Fill the bowl with small balls of clay decorated to look like fruit.
Subjects:

Language Arts,

Mathematics,

Visual Arts,

Media Literacy

Grades:

Grade 4,

Grade 5,

Grade 6,

Grade 7,

Grade 8,

Grade 9
---
Related Lesson Plans