Supplies:
Crayola Watercolour Paints, 8 Count
Crayola Variety Brush Set, 5 Count
Crayola Crayons (Regular NOT Washable), 24 Count
Photocopies of Students
Water Containers
Paper Towels
Steps: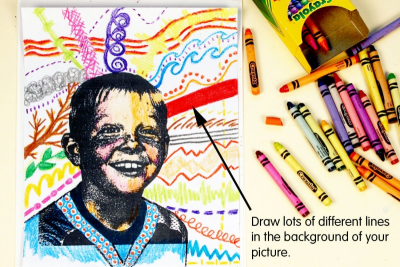 Use a black and white photocopy of a picture of yourself on a white background.
Use crayons to draw lots of different kinds of lines in the background of your photocopied photo.
Use lots of different colours and fill the space.
Press hard with the crayons.
Leave some paper blank.
Colour on your photo as well.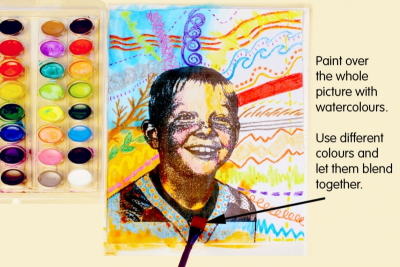 Paint over the whole picture with watercolours.
Choose different colours and let them blend together.
Think about how the colours of the paint will contrast with the colours of the lines.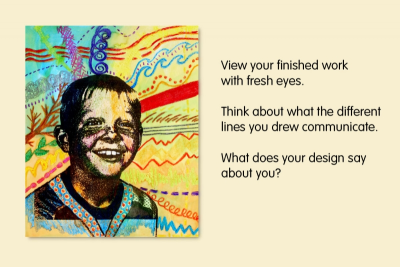 View your finished work with fresh eyes.
Think about what the different lines you drew communicate.
What does your design say about you?
- lines with sharp peaks give a feeling of energy and being hyper
- smooth flowing lines give a feeling of calm and being comfortable
- lines with sharp angles give a feeling of excitement
- wide lines give a feeling of strength and boldness
Subjects:

Language Arts,

Visual Arts

Grades:

Grade 1,

Grade 2,

Grade 3,

Grade 4,

Grade 5,

Grade 6,

Grade 7,

Grade 8
---
Related Lesson Plans