Supplies:
Crayola Construction Paper - 20.9 cm x 30.5 cm (9" x 12")
Crayola Construction Paper Crayons - 16 Count
Crayola Washable No-Run School Glue
Crayola Fine Line Markers - 24 Count
Crayola Erasable Coloured Pencils - 12 Count
Rulers
Erasers
Steps: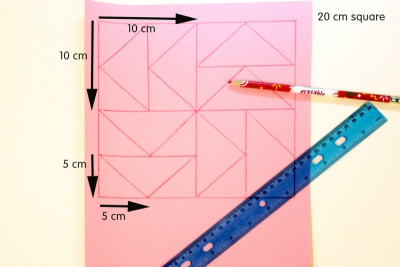 Follow the instructions on the worksheet to draw one of the quilt patterns, for example, the FLYING GEESE pattern.
Draw with an erasable coloured pencil the same colour as your construction paper.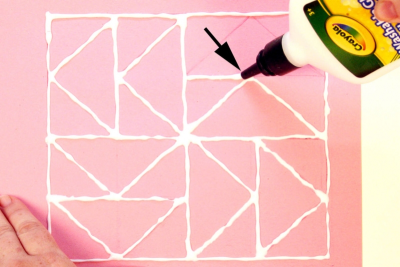 Use Crayola Washable glue to draw over all the lines.
Set the paper aside and allow the glue to dry for 3 hours.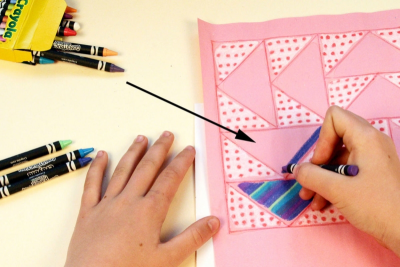 Use Construction Paper Crayons to colour each section of the pattern. Remember to:
- create patterns that look like fabric
- make the large triangles contrast with the small triangles so the 'geese' stand out
- make the large triangles in one quadrant darker, or different than the others
- press hard with the crayon to get deep, rich colours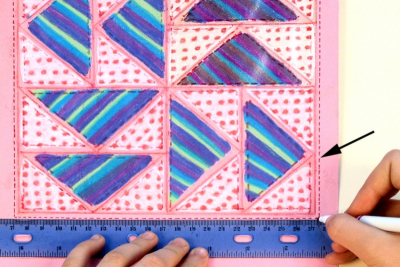 Use a fine line marker to draw short, broken lines to look like stitch marks all around the edges of the square and the triangles.
Use a ruler to guide your hand as you draw.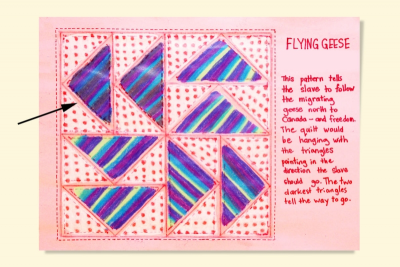 Use a fine line marker to write about the secret message in the quilt pattern. Remember to:
- draw light pencil lines to guide your printing
- check spelling and accuracy
- print neatly in pencil first, then write over it with fine line marker
- carefully erase all pencil lines
Subjects:

Language Arts,

Mathematics,

Social Studies,

Visual Arts

Grades:
---
Related Lesson Plans