Supplies:
Crayola Oil Pastels - 16 Count
Crayola Construction Paper - 22.9 cm x 30.5 cm (9" x 12")
Artist Proof from a previous lesson (optional)
Steps: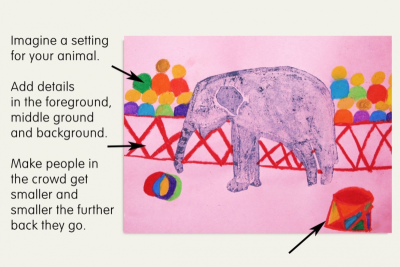 Use one of your artist proof prints from the A World Withoutprintmaking unit.
OR work from a photograph to draw the animal.
Imagine the setting for your drawing.
Include a crowd of people in the scene.
Add details in the foreground, middle ground and background.
Remember to make people in the crowd get gradually smaller the further back they go.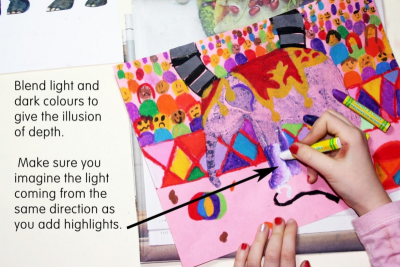 Blend light and dark colours to give the illusion of depth.
Make sure you imagine the light coming from the same direction as you add highlights.
Decide if you want to add details using construction paper.
- In this picture construction paper was used to show steps in the background.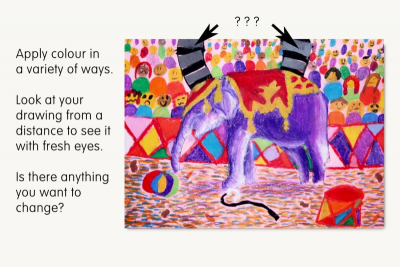 Apply colour in a variety of ways.
Look at the finished drawing from a bit of a distance to see it with fresh eyes.
Is the anything you want to change?
- In this picture the construction paper details don't seem to work with the rest of the drawing.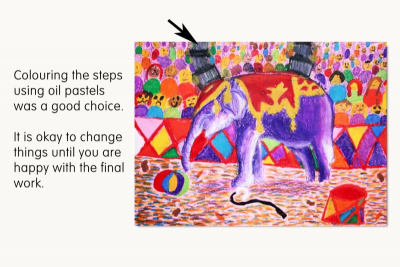 Removing the paper and colouring the steps using oil pastel was a good choice.
Remember that it is okay to change things until you are happy with the final work.
Subjects:

Language Arts,

Visual Arts

Grades:

Grade 3,

Grade 4,

Grade 5,

Grade 6,

Grade 7,

Grade 8
---
Related Lesson Plans