Supplies:
Crayola Black Construction Paper 22.9 cm x 30.5 cm (9" x12")
Crayola Construction Paper Crayons - 16 Count
Crayola Glue Sticks
Crayola Washable No-Run School Glue
Printing Plate - from a previous lesson
Pencils
Copy Paper
Soft Tissue
Googly Eyes (optional)
Steps: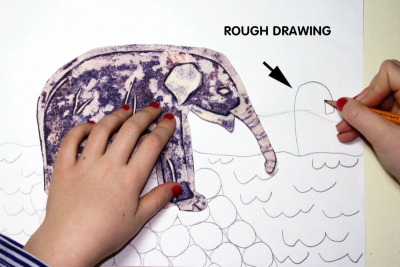 Place the printing plate shape on a piece of copy paper.
Move it around until you have the perfect spot to begin your composition.
Draw the dreamscape around your shape.
This is your rough drawing.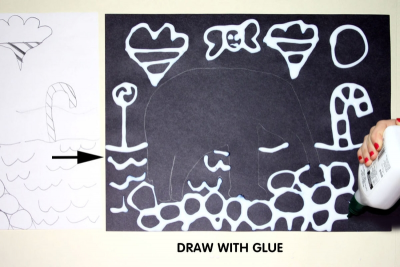 Draw the dreamscape using Crayola No-Run Glue.
Use the rough drawing as a guide.
Don't worry if your glue drawing changes a little.
Do not outline the printing plate shape with glue.
Allow the glue to dry overnight.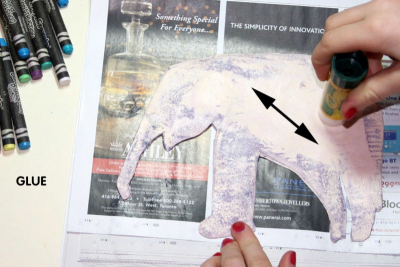 Cover the back of the printing plate shape with glue stick.
Make sure you put lots of glue over the whole surface.
Press the shape into place and carefully apply pressure to the outer edges.
Turn the paper over and apply pressure to the entire surface of the shape.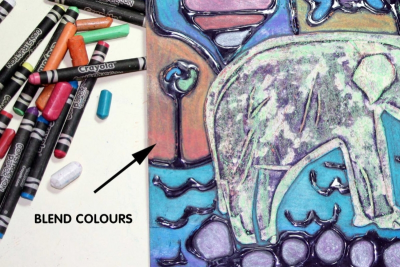 Colour inside the shapes using Crayola Construction Paper Crayons.
Decide if you want to colour the printing plate shape too.
Try blending colours, for example,
- Use a light colour and a darker colour.
- First colour in the entire shape with the light colour.
- Then colour some of the darker colour over the light colour.
- Press hard to lay down lots of crayon.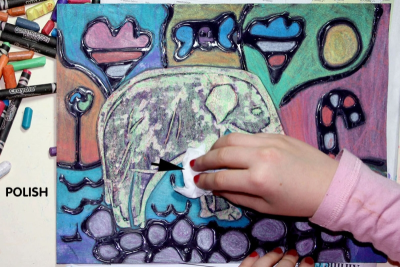 Lightly polish the drawing using a soft tissue.
The crayon will become smooth and shiny.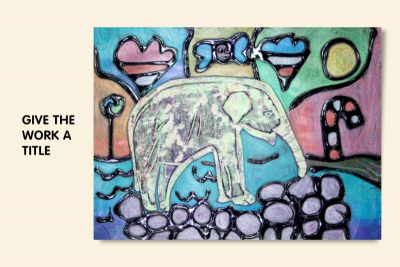 Add a googly eye if you need one.
Give your drawing a title, e.g., this drawing is titled, 'I Dreamed I Went To Candy Land'.
Subjects:

Language Arts,

Mathematics,

Visual Arts

Grades:

Grade 4,

Grade 5,

Grade 6,

Grade 7,

Grade 8
---
Related Lesson Plans