SUCH AN IMPRESSION – Impressionists, Colour, Texture

In this two-part lesson students first experiment with painting natural objects from observation, and compare their experiments with works by Impressionist painters. Then they apply what they have learned to paint a still life from observation in the style of the Impressionists.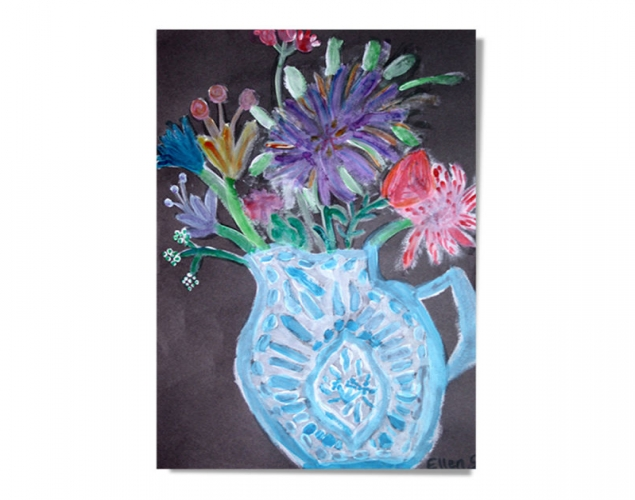 Supplies:
Crayola Black Construction Paper - 22.6 cm x 30.5 cm (9" x 12")
Crayola Washable Watercolour Paints - 8 Count
Crayola Variety Paint Brush Set - 5 Count
Crayola Washable Tempera Paint - White
Water Containers - 1 per student
Paper Towels
Plastic Container Lids for Palettes - 12 cm (4.5") diameter
Steps: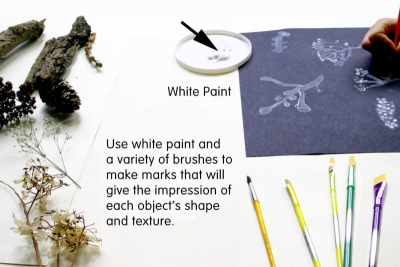 PART ONE
Gather a variety of natural objects.
Place them on the table so it is easy to view them separately.
Examine them, paying particular attention to the texture and patterns you see.
Use white paint to make marks that will give the impression of each object's shape and texture.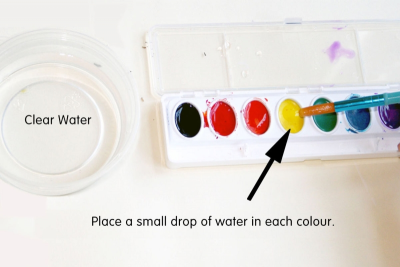 Place a small drop of water into each colour to activate the watercolour paint.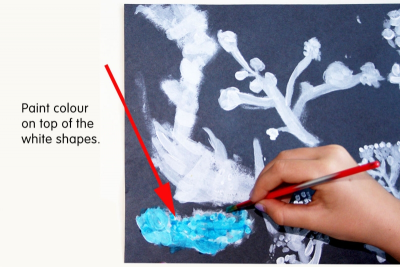 Paint colour on top of the white shapes.
Use the watercolours to experiment with different ways to make the texture more interesting.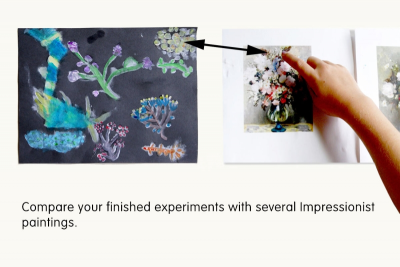 Compare your finished experiment with several Impressionist paintings.
What do you notice?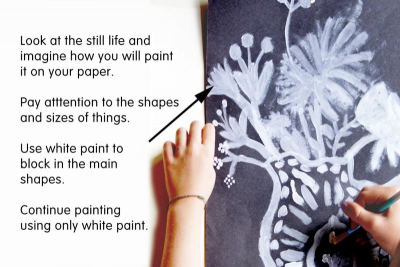 PART TWO
Look at the still life and imagine how you will paint it to on your paper.
Pay attention to the shapes and sizes of things.
Use white paint to block in the main shapes.
Continue painting using only white paint.
When you are finished stand back and look at your work with fresh eyes before you continue.
Make any changes or additions.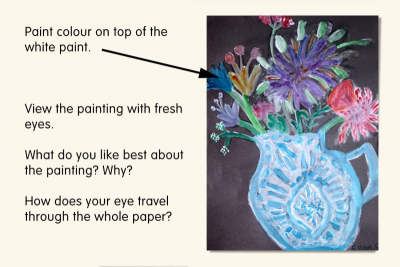 When you are satisfied start painting colour on top of the white paint.
Once the painting is finished view it from a distance to see it with 'fresh eyes'. Ask yourself:
- How have I used different brushstrokes to create textures?
- How have I used contrast to balance the composition?
- How do colour, lines and patterns get my eye to travel through the whole painting?
- How does the painting make me feel?
- What do I like best about my painting? Why?
Subjects:

Grades:

Grade 2,

Grade 3,

Grade 4,

Grade 5,

Grade 6,

Grade 7,

Grade 8
---
Related Lesson Plans