Supplies:
Crayola Modeling Clay - Jumbo Pack
Crayola Project Paint
Crayola Paint Bushes
Crayola Washable Glue
Crayola Scissors
Paper Towels
Shoebox or Small Cardboard Box - 1 per student
Bamboo Skewers or Toothpicks
Clay Carving Tools - optional
Water Containers
Found Natural Objects
Steps: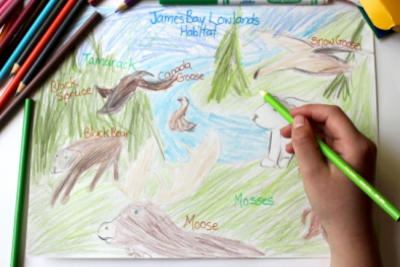 Choose a unique area in Canada.
Brainstorm a variety of plants and animals that are part of the habitat.
Use coloured pencils to draw the plants and animals that are a part of the habitat.
Include the names of the plants and animals in the drawing.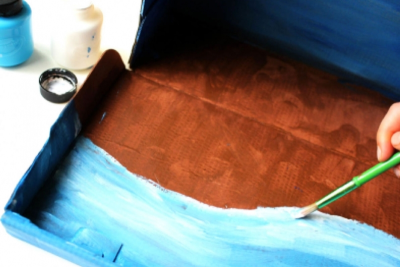 Use a small cardboard box (a shoebox works well) to create your diorama of the habitat you have chosen.
Begin by painting the box with colours connected to the land, water, and sky.
Continue painting a variety of colours on the cardboard box to represent the habitat you have chosen.
Blend colours together, for example, blue, white and dark blue, to give the illusion of depth.
Paint the entire box.
Allow the paint to dry.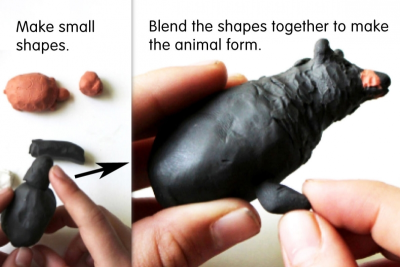 Begin creating the animals that live in the habitat.
Use modeling clay to sculpt each animal.
Make small shapes, then blend the shapes together creating an animal form.
Use sculpture tools such as popsicle sticks and toothpicks to add texture to your animal.
Use contrasting colours to add detail to your animal form and clarify the features.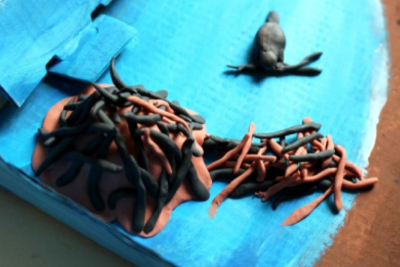 Roll modeling clay in your hands, or use a garlic press to create thin sticks, or plant stems.
Make a beaver's home by using a flat piece of modeling clay for the base, and covering it with thin rolls of modeling clay.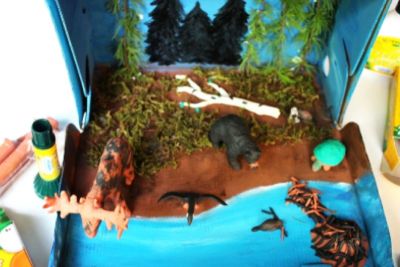 Continue to add details to your habitat.
Create plants and animals using contrasting colours and a variety of 3-dimensional forms.
Make sure your habitat is balanced.
Glue moss, bark, or dried plants to your habitat to help it appear more realistic.
Subjects:

Language Arts,

Science,

Social Studies,

Visual Arts,

First Nations, Metis, Inuit

Grades:

Grade 3,

Grade 4,

Grade 5,

Grade 6,

Grade 7,

Grade 8
---
Related Lesson Plans