Supplies:
Crayola Marker & Watercolour Paper - 22.9 cm x 30.5 cm (9" x 12")
Crayola Coloured Pencils - 24 Count
Crayola Construction Paper - Black - 22.9 cm x 30.5 cm (9" x 12")
Crayola Fine Line Markers - Black
Crayola Scissors
Crayola Washable Glue Sticks
Ppencils
Steps: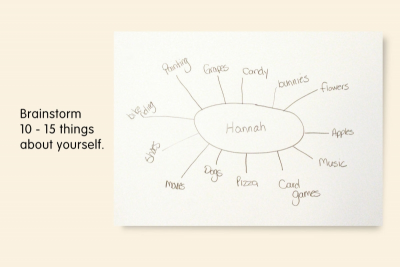 Brainstorm 10-15 things about yourself.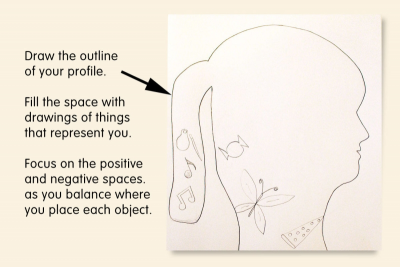 Draw the outline of your profile on a piece of Crayola Marker & Watercolour paper.
- Use an overhead projector (if one is available) to cast a shadow of your profile.
- Work with a partner to trace each other's profile.
Use a pencil to fill your shape with drawings that represent the ideas on your brainstorming list.
Each picture is a symbol of something that is important to you.
Focus on the positive and negative spaces as you balance where you place each object.
Make sure the images lead your eye through the space.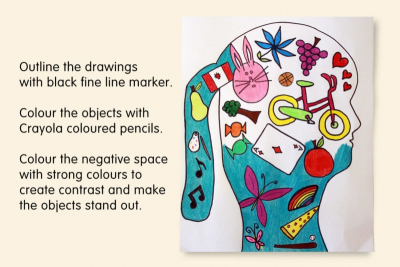 Outline all the drawings with black fine line marker.
Colour the objects with Crayola oloured pencils.
Colour negative space with one or a variety of strong colours to make the objects stand out.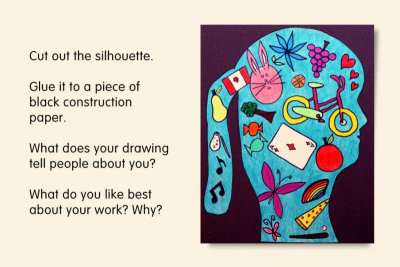 Cut out the silhouette.
Glue it to a piece of black construction paper.
View your work with fresh eyes.
- What does it tell people about you?
- How do the colours affect the overall design?
- What do you like best about your work? Why?
Subjects:

Language Arts,

Mathematics,

Visual Arts

Grades:

Grade 4,

Grade 5,

Grade 6,

Grade 7,

Grade 8,

Grade 9
---
Related Lesson Plans